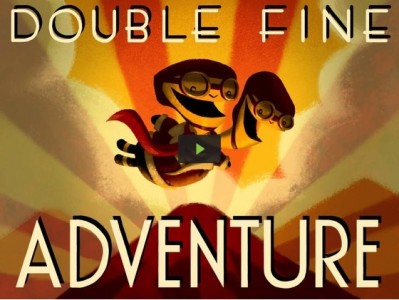 The video game industry needs more Tim Schafers.
His games, including Grim Fandango, Day of the Tentacle, Psychonauts, Brutal Legend, and the recent Sesame Street Kinect game Once Upon A Monster, have all been ingenious gems, full of character, humour, and interesting twists on game mechanics.
His brand of auteurship is something we don't see much of in this industry, likely because making a video game is such a collaborative effort, involving hundreds of cooks stirring the broth. Many of those cooks simply have money as their goal, and that can steer the game into directions the developers may not want.
Schafer's studio, Double Fine, is now trying to combat the dreaded hand of the publisher, with an experiment with the game development process. They've launched a Kickstarter project, which directly asks consumers to help fund a project that gives them creative freedom.
Think of it as an early pre-order: $15 will get you a copy of the game in the end, as well as an insight into the whole process and the chance to give feedback during production. If you want to donate more, your reward will not only be a greater sense of self-satisfaction, but exclusive production art, videos, your name in the credits, and if you're particularly generous, could get you lunch with the man himself.
So go to the Double Fine Adventure Kickstarter page and throw in your cash/support. We already know the final product will be worth it.
No one can explain it as well (or as entertainingly) as Schafer himself, so for more details, watch the video below.
[pro-player width='530′ height='253′ type='video' image='http://www.youtube.com/watch?feature=player_detailpage&v=uYZ_RnPMlQw#t=189s']http://www.youtube.com/watch?feature=player_detailpage&v=uYZ_RnPMlQw[/pro-player]