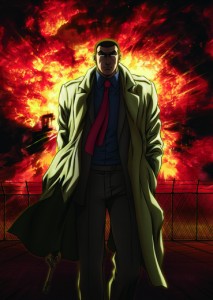 Siren Visual has today announced that they have acquired the license for the anime series Golgo 13 and ARIA: The Animation for distribution throughout Australia and New Zealand on DVD.
Golgo 13 will be released in four parts with the first of which due for release in may and the rest to be released in the months following.
Part 1 of Golgo 13 will feature episode 1-13 and is currently available for pre-order at Siren Visual's website.
ARIA: The Animation will be released in a complete collection of all 13 episodes in April and is also currently available for pre-order.
They went on to describe both ARIA: The Animation and Golgo 13 in their press release:
Time for some acquisition announcements. First up, ARIA: The Animation..

Set in the early 24th Century (that's a few hundred years from now) against the backdrop of the city of Neo Venezia on the planet Mars. No longer the barren red planet, Mars has been flooded, inhabited and is something of a tourist hub for those looking for rest, relaxation and a gondola ride – the primary mode of travel in Neo Venezia. The Undines are professional gondoliers, tour guides for the people passing through. Akari Mizunashi is an Undine in training and this is a piece of her story.

ARIA: The Animation is total relaxation in an aquatic-utopian sci-fi kinda way!

Looking for something a little more…intense? Golgo 13 might quench your thirst for bullets, blood and babes…

People say he's a ghost.

A machine.

A monster.

He's Golgo 13, the most feared assassin in the world, the professional's professional, the sniper of snipers. He's back to keep you glued to the screen (and away from the windows).
What do you think of Siren Visual's latest acquisitions? Let us know in the shoutbox and comments section.