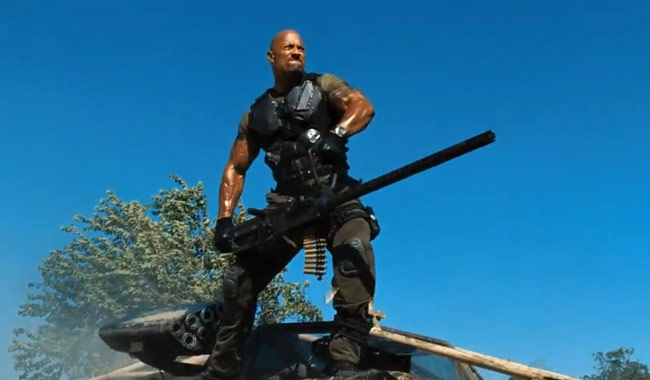 The first G.I. Joe will always hold a unique place in my heart because of one line, sublimely delivered by the usually stellar Christopher Eccleston in his best/worst Scottish accent – "You tossed the caber out of the park!" Other than that fantastically ridiculous line (which kept the Scottish cinema in hysterics for quite some time), the first G.I. Joe didn't make that much of an impact. It did however, make money, so on that note…
Step up G.I. Joe Retaliation, hitting cinemas later in the year:
[pro-player width='530′ height='253′ type='video']http://www.youtube.com/watch?v=Vx8QEK4YElA[/pro-player]
Cool music? Check, that's a remix of The White Stripes Seven Nation Army. Cliff face ninja battles? Check. Dwayne Johnson doing what he does best, and Bruce Willis along for the ride? Colour me interested, and somewhat surprised. Stephen Sommers has stepped down from the directors chair, with his place taken by one John Chu (erm, the Justin Bieber movie, Step Up 2: The Streets and Step Up 3D, but we can ignore that). The writing duo of Paul Wernick and Rhett Reese come with far better street cred, having written the excellent Zombieland and now also working on the Deadpool movie.
As you can probably tell from the trailer, the plot sees the majority of the Joes wiped out thanks to a Cobra spy played by Arnold Vosloo (The Mummy). The remaining Joes must band together to strike back and, presumably, save the world. Just a little check list here, the cast list includes The Rock, The Mummy, Darth Maul (Ray Park) and John Maclean. Nice.
Could G.I. Joe Retaliation be the action flick of the year? We'll have to wait until August to find out, but here's hoping the full feature can hold up to the promise of this first trailer.