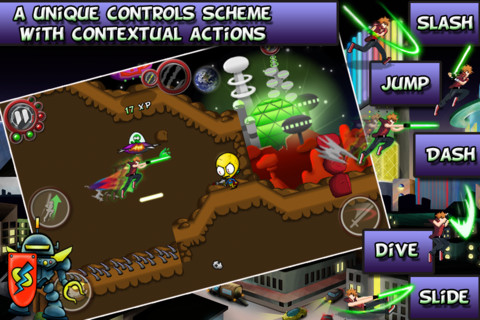 Thanks to the lovely people over at Daily App Dream and independent Canadian-based developer, XperimentalZ Games, the iOS title Don't Run With A Plasma Sword is free – but for a very limited time.
The title has been well received by both players and critics alike – distinguishing itself by offering an astounding mix of game modes – featuring story mode and endless mode with four highly unique gameplay environments. With a retro sci-fi style, RPG elements, awesome boss fights, comics and plenty of humour this is a title you're not going to want to miss.
If a free game wasn't enough, XperimentalZ Games have added a few more potential bonuses. If the title makes it to 100k downloads, the game will remain free for a minimal period of one month. At 150k downloads, an additional game mode will be developed on top of the already scheduled updates. At 200k downloads, yet another game mode will be added! So download the game and sit back and wait for your soon to be developed updates.
Check out the retro-humoristic in-game user manual that has been updated and uploaded to Youtube below, and then click right here to download your free copy of Don't Run With A Plasma Sword.