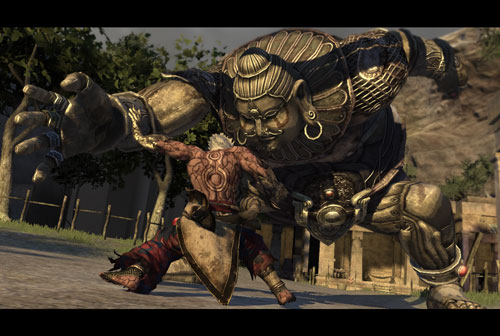 Feeling a bit angry with the world and looking to blow off some steam, then look no further as Capcom have announced the release of the demo for Asura's Wrath, downloadable from both the Playstation Network and Xbox Live now.
Asura's Wrath introduces a unique range of brutal techniques within close quarters, calling for players to dig deep into their reserves to escape each hairy situation. Blending a deep narrative storyline with intense action sequences, Asura's Wrath will please fans of most gaming genres, delivering a brand new feel and take on the action market.
In the demo, players will be introduced to a variety of the distinct enemies within 2 of the games levels, showing off the unique blend of asian mythology blended with sci-fi concepts. Become acquainted with Wyzen, the planetary sized boss, as well as Augus, Asura's old mentor, as you journey to right the wrongs done 12000 years ago.
Asura's Wrath demo is available from the Playstation Network and Xbox Live with the full retail version expected on February 23rd 2012 just in time for a spectacular Valentines day present.
You can also pre-order now and receive a free Asura Bobble Budd complete with 6 arms and a head that holds all his limbs, you cant ask for anything cooler could you. For more information visit the Capcom Store.