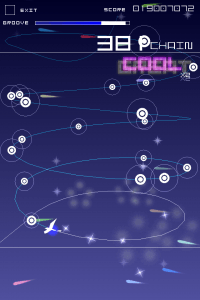 Taito have added some holiday themed songs to their iOS title, Groove Coaster. The update includes 5 new tracks, 3 of which are available via in app purchase, the other two are gifts from Taito to you! The tracks include:
Fess up! By Shohei Tsuchiya
Thrash Beat by COSIO
PIPIPI MUSIC by THE APRILS for US$0.99
VISIONNERZ ~Genshi-jin~ by OGR for US$0.99
Jingle Bells – Trance Mix- by COSIO for US$0.99
Taito have also launched a mini album on iTunes, Groove Coaster Extended Play for the price of US$6.93 or each track for US$0.99.
Track List
1.Just No Friend
2. Protocol Signal Generation
3. Hello 31337 (GC Edition)
4. Fess up!
5. Thrash Beat
6. VISIONNERZ "Genshi-jin" (GC Edition)
7. Jingle Bells (Trance Mix)
Last but not least, Taito have a sale! With three games discounted. Groove Coaster itself has been discounted to $0.99 instead of the 2.99. While Cooking Mama is now only 3.99 and Space Invaders Infinity Gene is now only 2.99.
Check out the trailer below to sample the new tracks, and follow the above links to purchase your new, on-sale iOS games courtesy of Taito.