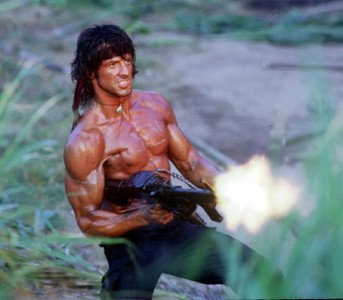 It has been reported that action hero Sylvester Stallone's Rambo will be getting a video game adaptation for retail release next year, as UK-based publisher Reef Entertainment has recently secured game rights to the first three films (First Blood, Rambo: First Blood Part II and Rambo III) which have grossed over 6 million dollars collectively. The game is set for a PlayStation 3, Xbox 360 and PC release, and will contain a gritty atmosphere much like the films.
"I am a big fan of Sylvester Stallone movies, and when we had the opportunity to secure the video game rights from StudioCanal for the Rambo franchise, we had to grab it with both hands" says Reef Entertainment CEO Peter Rezon.
No man, no law and no war can stop this game from hitting store shelves! Unless of coarse, it gets a R18+ rating, then it most likely won't be coming to Australian stores.