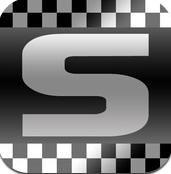 Fishlabs Entertainment has announced the release of Sports Car Challenge, the perfect app for people who would love nothing more than to gun some fast cars and reach the top speed of more than 400 km/h. And who doesn't love that?
Working with Volkswagen, the list of sports cars include Audi TTS Coupé, the Bentley Continental Supersports ISR, the Bugatti Veyron 16.4 Grand Sport, the Lamborghini Gallardo LP570-4 Superleggera, the Porsche Cayman R and last but not at all least the Volkswagen Scirocco R. And I may not be the biggest car fan, but these are some damn fine cars that even I know are all super drool-worthy. Using super detailed 3D models and an overall sweet visual treat and a huge variety of authentic colours and rims for full customization abilities. You can choose between automatic and manual and experience first-hand what it feels like to shift up through seven gears in some completely kickass four-wheeled powerhouses.
There are three different race modes, time trial, slalom and braking contest.
Sports Car Challenge is available now on iPhone and iPad for FREE – get it HERE