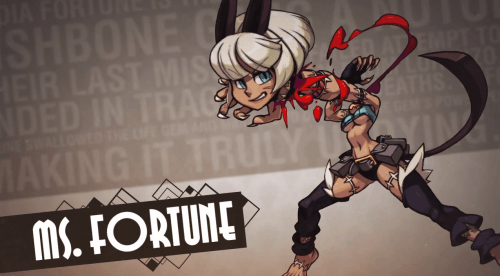 Here comes a new challenger! Konami's upcoming 2D downloadable fighter Skullgirls has seen a new trailer announcing a new fighter, Ms. Fortune. Developed by Reverge Labs, published by Autumn Games and distributed by Konami, Skullgirls is coming to XBLA and PSN early 2012.
Ms. Fortune is someone you can really loose your head to-her signature move involves detaching her head and attacking the enemy with it! Apologies for the pun, but that's what Skullgirls is all about. The trailer involves Ms. Fortune preforming a 'Berserker barrage' attack, a noticeable nod towards Wolverine's attack from the Marvel Vs Capcom series, as well as poking a little fun at the hit comic book/film V for Vendetta by screaming "Remember Remember the fifth of dismember!"
Filled with puns and anime influence, Skullgirls is sure to make heads roll! Make sure you check out the character's vignette below, and make sure you get your head into the game when Skullgirls sees it's release in early 2012 for XBLA and PSN.