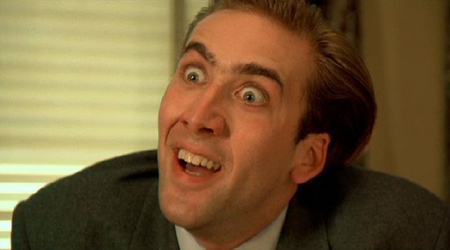 Are you stressed to the point that you are breaking out with anxiety induced eczema? You're not alone. In a noble attempt to fight anxiety based eczema world wide, Nicolas Cage, the official poster boy of everything, has offered up his iconic snarling face to help fight this epidemic of end of the world proportions (In cinemas 2012).
That is right Cagemen and Cagewomen you can now play with Nic Cage's face whenever you are stressed or just want to gaze longingly into the face of your god father (What a twist!), you can do so now with this great simple browser based game called "Nic Cage's Face". Have some fun with Uncle Nic here. You can wiggle his face and even jiggle his face!
What do you think of Nic Cage's Face? Does it calm you like your mother's breast milk once did to you as an infant child? Let us know in the shoutbox and comments section.