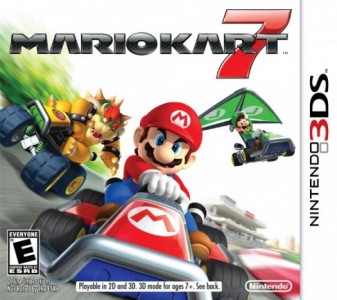 Nintendo Australia has announced a release date for the highly anticipated Mario Kart 7: Saturday December 3rd! Exclusive to the Nintendo 3DS, Mario Kart 7 brings all the exciting kart action to the palm of your hand in full 3D.
New competitive kart possibilities are available with kart customization, and players can now race underwater and glide over the tracks when the new Glider is deployed on big jumps. Mastering all these new features will allow players to discover shortcuts and beat your opponents to the finish line in true Mario Kart competitive action!
All your favorite items like the shells and invincible stars are back along with some new power-ups like the Super Leaf providing both offensive and defensive abilities that let players use a Tanooki tail to both protect them from incoming shells and to whip opponents off the track. The Toonooki tail is also making a return in Super Mario 3D Land on November 24th also available for the Nintendo 3DS, which will bring a unique mix of classic and modern Mario gameplay. So if your a hardcore Mario fan, it seems like this is the best time to grab a Nintendo 3DS if you haven't already!