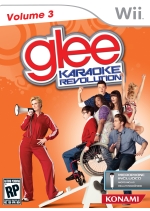 Gleeks everywhere! Calm down your constant replays of the Rumour Has It/Someone Like You Adele mash-up and listen up! The third volume of Karaoke Revolution Glee is now available for Wii and Xbox 360.
Konami Digital Entertainment and Twentieth Century Fox have officially released Karaoke Revolution Glee Volume 3, with the largest song lineup to date, with 35 brand new hits, memorable performances and exclusive footage from Season 2!
Sing along in multiplayer games of up to six players, and – for the first time – you get to belt out your favourite memorable performances from Season 2 from episodes such as "Britney/Brittany", "Auditions", "The Rocky Horror Glee Show" and more.
As with the soundtrack of Glee itself, there is a huge range of songs from iconic pop songs, to ballads (not the male duck), duets, and even some hip hop (as long as there's no Mr Schue raps I'm cool with that). With a set list spanning across decades, the whole family just might want to join in.
As long as having a good amount of songs available with the game you can also purchase downloadable content on Xbox Live for $1.99 (or 160 Microsoft points) for each or in a bundle for $9.95 (or 800 MS points).
Karaoke Revolution Glee Volume 3 is available for Wii and Xbox 360 in the US for $49.99 with a microphone and $39.99 for just the game.
Check out the Facebook page here or the Konami site for more info!