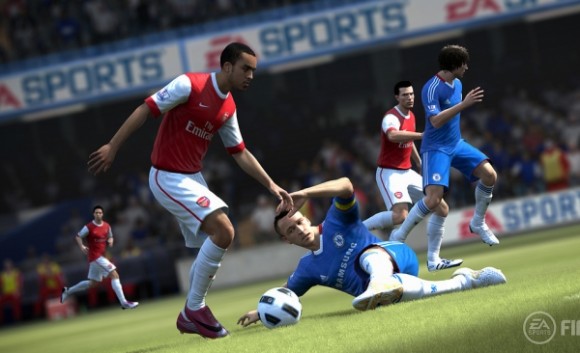 EA Sports will release a second, rather significant patch today for Xbox 360 and PS3 (PC/Mac patch already released). The patch extends through many areas of the game, including general gameplay, Career Mode, FUT, and online. The list was pretty substantial (seriously), so prepare for a long, yet promising read. Here's what they fixed:
General Gameplay:
Issue when a user would call a second player to take a quick throw in, resulting in the game recognising it as the ball re-entering play.
Occasional problem where Manual crossing setting would reset
That wonderful misalignment of legs, albeit much more common in the demo, it still surfaced for a very small number of people in the full version.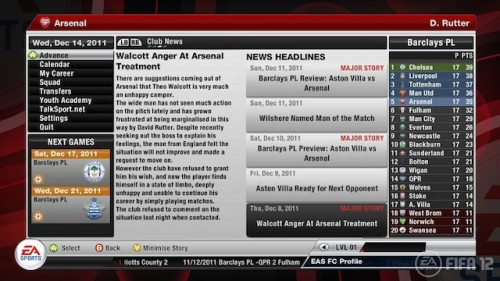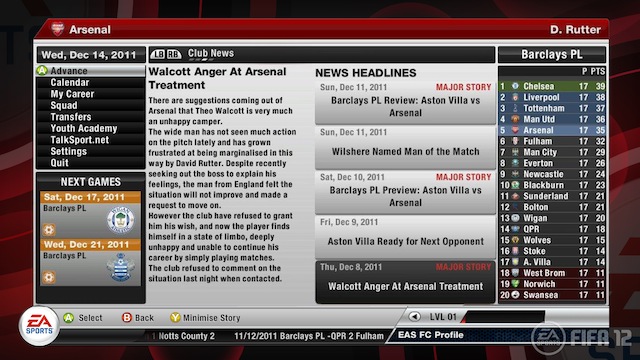 Career Mode:
Weather conditions are now able to be chosen before a match
Salary suggestions for players will remain consistent when exiting and re-entering the negotiations screen.
Youth player salary returns to budget after releasing them from the Youth Squad
Fixed the problem when following through with a purchase option for a loan deal if it caused you to reach the maximum squad size.
No longer possible to sign a Youth Player with wages higher than your available budget.
Addressed a few rare situations where specific actions caused the controller buttons to become unresponsive.
When playing as a Player in Career Mode, your manager will be more likely to sub you off if your player is getting too tired
Fixed a strange situation where the commentary wouldn't show up when playing a League Cup match involving Manchester United
Issues when editing and saving player positions and the subsequent console hang.
Removed the issue where your player's team could enter a new season without a goalkeeper or the minimum squad size.
Resolved the issue where a player's team would record a win despite the match being fore-fitted due to a lack of players
Recently signed Youth Squad players will enter negotiations with an accurate, consistent "Current Wage", meaning they'll be picked up more easily by CPU teams.
Game hanging issues when entering two controllers into a Career mode and then backing out.
Fixed the apparent random crashes experiences by some in Career Mode, where players would appear with a zeroed price
Made physical attribute growth more realistic, resulting in much more steady progression. (Neymar stamina issues anyone?)
Offer a new contract to a loaned out player who is on their last year of contract, instead of them just disappearing into free agency.
More noticeable progression and improvement for loaned out players
Most mid-week matches will be night-time lighting conditions
FIFA 12 Ultimate Team:
Using an outdated "Take Me There" link in the trade feed FUT hub will no longer result in your coins not being returned if you lose an auction.
Trade feed notification for a newly signed GK Coach will no longer cause game hanging.
Fixed disconnection issues when creating a new squad then immediately deleting an old one to apply an item.
Real-time information will be displayed during active auctions to prevent you being unknowingly outbid.
Fixed crash issues experienced on Match Setup before games
EAS FC XP and news feed will update after playing a single-player or play-a-friend game
Fixed struggle issues when paging through auction pages
Fixed various crash issues including the situation after downloading the latest FUT update after creating a Virtual pro, or when not signed into a gamer profile on the download page.
FIFA 12 Clubs
Camera settings will be saved for subsequent Club games after changing.
Penalty kick taker can be changed via Team Management
Accomplishments are now fully tracked in online matches.
AI difficulty has been decreased to Professional in order to stop people from not fielding defenders in order to let the AI do the work for them.
My Live Season, EAS FC and FIFA 12 Online
Injured or suspended players will now be automatically moved to the reserves rather than the subs bench.
Stopped the game from making too many calls for Support Your Club information upon entering the EAS FC hub.
Functional issues with the back/select button when returning to the EAS FC hub.
Enhancements made to loading in the pre-match arena before a EAS FC Challenge.
All Career Mode activity will now display correctly in the EAS FC news feed.
Fixed the occasional problem saw users fail to match up online due to mismatching squad files, despite re-downloading the online squad file.
Resolved stat tracking issues for Online Friendlies.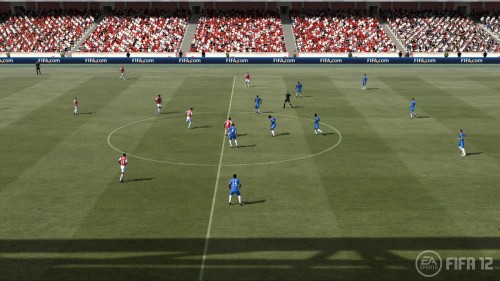 Creation Centre:
Crash problem when downloading a PNG image over the maximum file size.
Issues when trying to enter the CC Gallery after bookmarking numerous items to download.
Rare occurrence where your CC team would have a man missing on the pitch.
Changing kit sponsor images will no longer cause problems on the console.
Improved the way FIFA 12 handles large numbers of CC downloads in order to increase performance in the team-selection screen.
EA Sports Arena:
Enabled private sessions within the EA SPORTS Arena.
Turned on our in-game podcasts. You can access our regular five-minute chunks of audio news and information by turning the option on in the Game Settings > Audio menu. [English only)
Fixed loading and disconnecting issues for people with many save files on their hard drive.
[PC only] Corrected a problem where, after scoring a goal, custom music would stop playing for around two minutes. Also have added an option to the FIFA 12 launcher to disable some Windows settings, improving the framerate for people with lower-spec PCs.