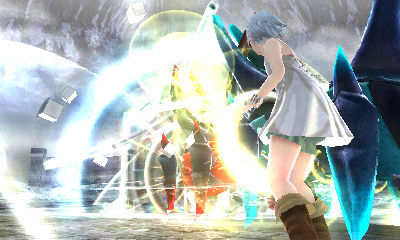 Konami and developer tri-Ace have been working on quite a unique 3DS RPG named Beyond the Labyrinth, and while there have only been a few details released so far, one new piece of information lends credence to the possibility of augmented reality being possible within the title. Most titles for the Nintendo 3DS do not take advantage of this feature, so this would be a big plus for the title.
While not announced for the game itself, a limited edition bundle has been announced for Japan and will feature an AR calendar that will let players view a girl in different costumes through the 3DS' cameras. The girl, whom we can presume to be the white haired one that leads you through the labyrinth, will then rise from the paper above the marker.
Besides the Ar Calendar, the bundle will include the game of course, a soundtrack CD, a poster and a cleaning cloth that will run around 9,315 yen. The game itself has not been announced for localization at this time, but if it does, hopefully this bundle will arrive Stateside as well.