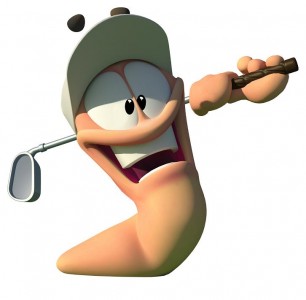 Last time I played golf, the only obstacles I encountered were trees, a persistent torrential downpour and my own lack of co-ordination.  
The new gameplay trailer for Worms: Crazy Golf shows off the kind of obstacles you might expect from playing golf as a worm across a pirate-themed course – namely, cannons, bats, treasure chests, and explosive barrels.
It also demonstrates the functions of some of the mechanics we've been told about in our interviews with Team 17 design staff. Players can call upon anti-gravity powers to bounce their ball across wider gaps, hit switches to toggle troublesome magnets on or off, and collect coins. Oh yeah, and try to get the ball into the hole.
You know what? Just watch the video. Worms: Crazy Golf is due out this Wednesday, October 19.  
Expect our review some time in the next week or so, but before then, check out our interviews with Team 17 Head of Design, John Dennis, and Lead Designer on Crazy Golf, Paul Dunstan, for more information.