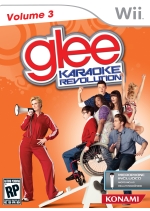 Konami and Twentieth Century Fox Consumer Products has announced a partial song list for their upcoming Karaoke Revolution Glee: Volume 3. The song list comes from the second season of the hit show, such as:
– Billionaire
– Born This Way
– Firework
– Just The Way You Are (Amazing)
– Last Christmas
– Loser Like Me
– Lucky
– Marry You
– River Deep/Mountain High
– The Time Warp
– Toxic
The game will feature heaps of new key elements including up to 35 songs from season 2 and scenes from the show, performing along side your favourite GLEE characters, and multiplayer singing games with up to six players. As well as these gaming modes, for the Xbox 360 there is all new downloadable content, high definition, and raking comparison with other GLEEks online.
Karaoke Revolution Glee: Volume 3 is available on Xbox 360 and Wii on November 22.