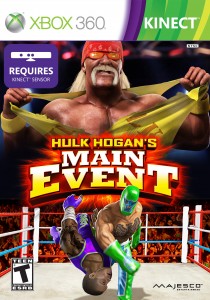 These days, your not a proper wrestling title if you don't have a decent create-a-wrestler mode. The Hulkster seems to know this, as new screens revealed today show off what players can expect in Hulk Hogan's Main Event.
This small set gives us a better glimpse of the creation process, while also fully displaying the models players will be using. Things look pretty standard as far as customization goes, but I really am digging the over-the-top art style that these wrestlers have. Just look at those chins! They beg for Bruce Campbell to be a star player in everyone's roster.
This is the first true wrestling title to feature Kinect controls, and definitely one of the more polished Kinect titles we have seen as of yet. Check out the screens below and prepare yourself BROTHER!, as Hulk Hogan's Main Event leg drops into stores next Tuesday on October 16th.