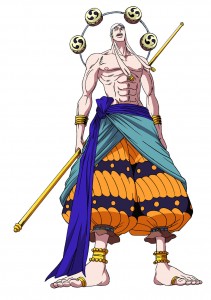 It has been revealed that the upcoming DS fighting game, One Piece: Gigant Battle 2 New World will feature 4 fan favourite characters: Rob Lucci, Nefertari Vivi, Wapol and the highly requested Eneru.
While these characters are certainly not going to play a large role in the storyline of the New World part of One Piece, there impact on the series as a whole was huge, thus making their inclusion essential.
One Piece: Gigant Battle 2 New World is set for a Japanese release date of November 17th, 2011. It has yet to be confirmed whether it will be localised. The first game in the series however is in the process of localisation, so who knows it may not be too far off the books.
What do you think of these newly announced playable characters? Let us know your thoughts in the shoutbox and comments section.