When November rolls around and it starts getting close to Christmas, we again have to think about what to get our friends and family as gifts. Thankfully, Madman's November DVD lineup is shaping up to be quite impressive for all those Christmas pressie ideas. Here's our pick of the top DVDs that will be gracing our televisions next month.
The Trip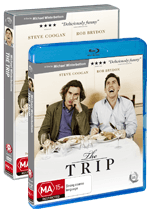 When Steve Coogan (I'M ALAN PARTRIDGE, 24 HOUR PARTY PEOPLE) is commissioned by The Observer to travel around the North of England and review a series of regional restaurants, he naturally wants to take his food-loving girlfriend with him. But when she is unable to come, Coogan reluctantly recruits friend and fellow actor/comedian, Rob Brydon (GAVIN & STACEY, TRISTRAM SHANDY).
Whilst they take in the beautiful countryside of the Lake District, Lancashire and the Yorkshire Dales, the chums are tasked with sampling a diverse and delectable range of meals, during which they unleash a routine of hilarious one-upmanship, impersonating a suite of celebrity icons including Sean Connery, Al Pacino and a comprehensive study of Michael Caine's shifting accents and moods across several decades.
Release date: 2nd November 2011
Peep World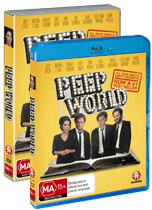 Nathan Meyerwitz has just taken the literary world by storm with his book, PEEP WORLD, a detailed expose on the inner workings of a rich and neurotic family… his family, as it happens, and they are not happy!
Nathan's brother, Jack (DEXTER's Michael C Hall) is failing his career and desperate to win back the trust of his wife following his implication in a series of salacious events detailed in the book. Nathan's struggling actress sister, Cheri (comedian Sarah Silverman) is being taunted by her own failures, as the movie version of her brother's book is being filmed outside the window of her apartment. Meanwhile, the family black sheep, Joel (Rainn Wilson, THE OFFICE) plots to turn his life around – at his family's expense. Over the course of 24 hours, this ragtag group of misfits will summon their courage to come together for the "family dinner" they'll never forget!
Release date: 2nd November 2011
Outrage
Nominated for a Palme D'Or at the 2010 Cannes Film Festival, and following a ten year hiatus, OUTRAGE marks Takeshi Kitano's triumphant return to the gangster genre.
Prepare to be initiated. In a world of constant betrayal and brutal vengeance, long-time clan member Otomo (Kitano) has watched as his kind has evolved from body tattoos and severed fingertips to becoming savvy businessmen and important players in the stock market. In a ruthless battle for power, Otomo will claim his place in the battle for the top spot.
Release date: 2nd November 2011
Trigun: Badlands Rumble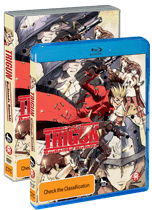 The iconic TRIGUN returns in this brand-new feature-length movie! Vash the Stampede is a gunslinging, red-trenchcoat-wearing drifter with a bounty on his head. Vash's main opposition though, is not the authorities, but Gasback, another outlaw who wants revenge for a twenty-year-old botched robbery. Throw into this mix a beautiful and mysterious woman with a grudge, two insurance agents, and Vash's old friend Wolfwood, and we're in for a rollicking ride!
Release date: 16th November 2011