It's the dying minutes of the game, and Tottenham have contained Arsenal to a score of 1-1. But then the break.
Walcott tears down the left flank and passes the ball straight to Van Persie who taps it gently towards the man who would score the winning goal… David Villa.
In case you didn't know, this weekend Arsenal lost to Tottenham. And they certainly don't have Barcelona's David Villa at their disposal. But this weekend, I found myself hardly caring because my Arsenal are close to top of the table, with one of the strongest teams in their history.
On hearing the phrase long-weekend, people conjure images of a day in the park or a Sunday afternoon adventure. And when a game is released packed full of features and modes, people tend to play the entire experience the game has offered them, online and offline. But I've spent most of my weekend locked away, playing away at one spectacularly addictive mode from FIFA 12: Career Mode.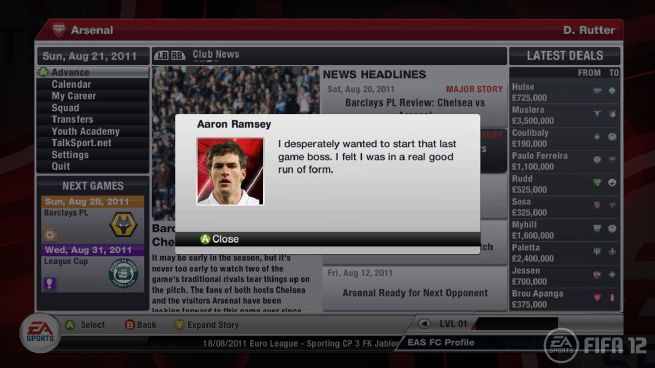 To put it shortly, if you care even a little bit about soccer, this mode will have you missing entire hours as you become completely enthralled in the Manager's experience.
Immediately upon becoming the manager of your chosen club, you are thrust into the start of the transfer season, a few million dollars in your pocket. Between playing a spatter of pre-season friendlies, you throw any excess players overboard and chase after those who you think will swing things in your favour. This culminates on the bi-annual transfer deadline days, where you go into what can only be described as the menu version of bullet-time. As every hour ticks away, you begin desperately throwing millions of dollars towards players who you not only want, but you need to make your side the best. Other clubs will be doing the same throughout the transfer season, so that by the time the season starts, the in-game Manchester City you will be playing against is far different from it's actual counterpart. The thrill of buying and selling players is so addictive, I found myself lining up potential buys ages before the next transfer period, praying I could afford them when the time came.
And that's just the pre-season. Once you've got your side all lined up, you'll find yourself trying to grapple your way to the top of the tables match after match, and as your players begin tiring from the constant stream of games, you'll find yourself pressed to substitute your star players for your not-so-star players. And let's not forget player tantrums.  If a player is in good form and you're playing him regularly, he's sure to be beaming, but that average player you've benched for half the season? Well, he's going to start whining and whining until he either decides to leave entirely or you get tired of his incessant moaning and sell him to the first buyer. Or I suppose you could listen and try to play him a bit more…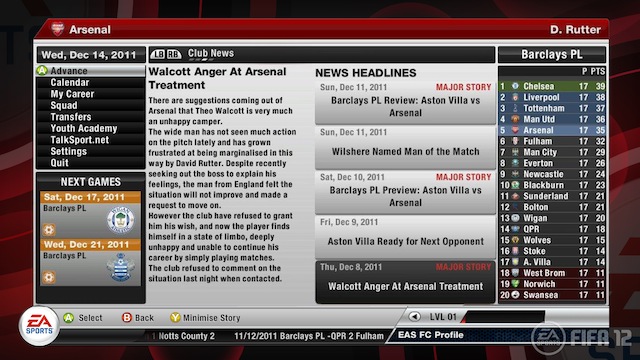 As the season goes your younger players may improve significantly, and your older players might deteriorate. You can set up scouting networks, searching for your future stars and creating the youth team of your chosen club. Headlines of important soccer news scroll down the Career Mode menu, letting you know how the team is doing, which players from other clubs to watch out for, and which players you seem to not be using enough. And your own statistics are tracked. As you win more games, you managerial abilities will be noticed by other clubs, who will try to poach you away from your team by offering you better salaries. Not that your manager salary impacts anything, but it's a nice touch.
In the end I think it's easy to see why my three-day weekend slipped by in a blaze, as I was completely absorbed by a singular game mode. In the end, much of the mode involves menu-surfing, but the way the features are implemented and the slick interface connecting them all creates a time-consuming and personal experience very few games achieve. The game made me feel like I really was the manager of the almighty Gunners, and (between you and I) I'm a much better manager than Arsene Wenger.