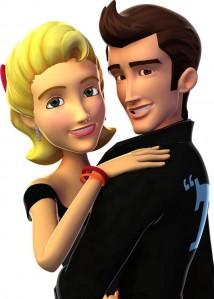 I would imagine that everybody reading this has probably seen the hit movie Grease that first
seen life in cinemas in 1977. There is no doubt that this musical started the trend, and now 505 games have released Grease for both the Xbox 360 and Playstation 3. This title lets players sing and dance to their favorite tracks from the flick, using either the Playstation Move or Kinect motion controls.
505 Games, who are publishing this musical number have recently released a statement to celebrate the release of their new dancing smash:
"Grease is an all-time classic entertainment property and it is with great pleasure that 505 Games is able to bring this updated re-imagining of the brand into the homes of fans this holiday season," said Ralph Pitt-Stanley, general manager, UK and Export for 505 Games. "The cutting-edge new motion control technology of today's consoles has enabled us to bring all the excitement of classic choreography and 1950's attitude to life in ways not possible before."
Whether your a Pink Lady or a T-Bird, it looks like anyone should be able to jump right in and get down to those iconic tunes from the legendary film. You can check out the newbatch of screens as well as the fresh launch trailer down below.