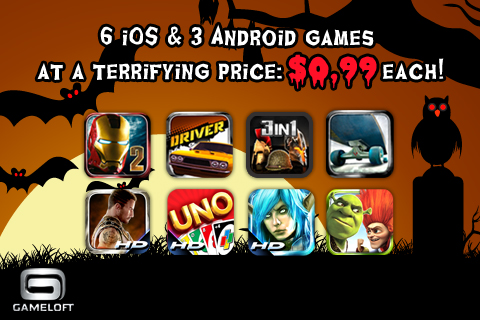 Think Halloween only has treats and candy to offer? Well you're wrong! Gameloft have announced a Halloween sale with six iOS and three Android games going on sale for the low price of 99 cents. The games are:
– Order and Chaos Online for iOS and Android
– Driver for iPhone
– UNO for Android
– Gameloft Action Pack (including Hero of Sparta, Brothers in Arms, and Blades of Fury) for iPhone
– Iron Man 2 for iPhone and iPad
– BackStab for Android
– Skater Nation for iPhone
– Shrek Forever After for iPhone and iPad
Gameloft also have a Trick or Treat contest running where the prize is an iPad 2 or a Samsung Galaxy Tab! Check out the video below for more information, as well as some lulz.
To enter go to the contest Facebook page and solve the puzzle in less than 60 seconds (with as many entries as possible!). So what are you waiting for? Go win yourselves some prizes and score some cheap ass apps!