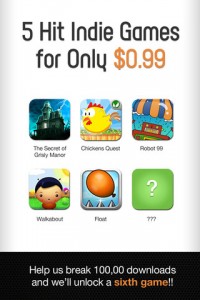 Despite the low price of mobile-based games, I'm well aware that gaming can be an expensive pastime. At $0.99 a game, I tend to spend hours browsing the App Store in search of more good quality games to buy. Sometimes you hit a gem, and the time searching is well worth it. What better way to celebrate than to share the news with you readers?
For a limited time the Corona Indie Bundle is a mere $0.99 over at the App Store. The bundle features five hit Indie games; with the possibility of a sixth game to be released if they break 100,000 downloads. The features games are: The Secret of Grisly Manor, Chickens Quest, Robot 99, Walkabout and Float, with no news yet of what the mysterious sixth game may be.
Check out the trailer below, and follow the links for more information or to purchase the Corona Indie Bundle. Do your bit and help out not only Indie developers, but also charity. 17% of the proceeds go to the following charities: Bliss, Child's Play and Dispensario de Managua. The corona Indie Bundle is available on both iPhone and iPad, and will be available for download to Android devices soon.
Click here to purchase the Corona Indie Bundle or visit their website by clicking here.