Madman have announced that Cartoon Network hit, Adventure Time is coming to DVD in Australia at the end of the year.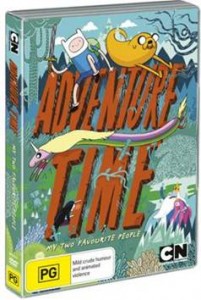 Adventure Time is an animation that follows Finn, a young boy with a wacky (but pretty cool) hat, and Jake, a 28-year-old dog with magical powers. Originally called Adventure Time with Finn and Jake, the series sees Finn and Jake travel to the 'Land of Ooo'. There, they meet the land's wacky inhabitants, including Lady Rainicorn, Princess Bubblegum, and the Ice King.
Adventure Time presents a unique artistic style and those powerful surrealist elements so many of Cartoon Network's shows are renowned for. The title is available for purchase on November 30, 2011 for $19.95.
With such a kooky cast and a truly unique vibe, it's sure to be a hit Down Under. Check it out at the Madman store here.