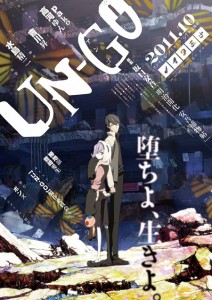 The upcoming noitamainA title set to debut this fall season, UN-GO, has been licensed for release and distribution by Siren Visual. The series will be simulcast through ANN video in conjunction with Siren Visual and Fuji TV beginning October 13th. Currently no physical media release has been announced for UN-GO, though it is likely, given Siren's history with their simulcast series being soon confirmed for DVD and Blu-Ray release.
UN-GO continues the trend of BONES produced anime airing in Fuji TV's noitaminA, taking the spot previously held by No. 6, another BONES series that was recently licensed by American company Sentai Filmworks.
UN-GO is an old-school styled detective story in a new-school setting of a dystopian futuristic post-war Tokyo. If that concept intrigues you be sure to check out Siren Visual's simulcast starting October 13th.