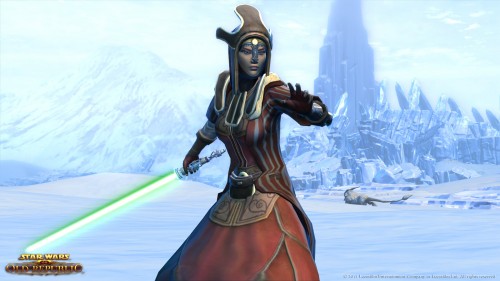 Good news everyone, Star Wars The Old Republic now has a release date set in stone. That date is set to be the 20th of December 2011 for the US and the 22nd of December in Europe.
Just remember that players who pre-order the game will also get early access if they've entered in their limited pre-order code into the pre-order website. The early access is a week before the title officially launches, but you'll have to be quick to secure a copy as EA is releasing the game in limited amounts so as to not overpopulate the servers on launch.
In addition to the release date, The Old Republics pricing scheme has also been announced. I should point out that this game is a subscription based game and that the pricing is very similar to concurrent MMOs. The subscription prices are listed below.
Each copy of Star Wars: The Old Republic will come with 30 days of subscription time, after which you have the option to continue playing with one of the following monthly subscription fees:

1 Month Subscription: $14.99 (£8.99/€12.99)
3 Month Subscription: $13.99 per month (one-time charge of $41.97/£25.17/€35.97)
6 Month Subscription: $12.99 per month (one-time charge of $77.94/£46.14/€65.94)
There is no word on whether there will be pre-paid cards for the title on the Official Site, which you should check out for more information.