Supanova is a great place to catch up with some of our favourite sci-fi and fantasy celebrities, and 2011 saw Sean Maher as one of the Supastar guests who came to meet his fans. Sean Maher plays Simon Tamm in Joss Whedon's series Firefly and the subsequent film Serenity.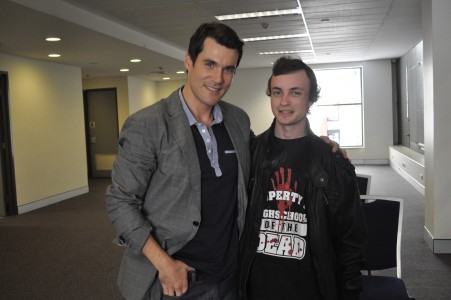 Ben Webb/LinkageAX looking absolutely starstruck.
In our interview, Sean mock punches Ben in the face (when he fell over, he actually broke his sunglasses that were sitting in his pocket), talks about Firefly and Serenity, working with Joss Whedon, and his time in Australia. Sean is currently on the TV series, Make It or Break It, where he plays Marcus.
Sean is an absolutely awesome person and such a joy to talk to. The only reason we actually wrapped up the interview where we did was because we had run out of time, otherwise I'm sure we could have easily talked for an hour! Again, apologies for the occasional cuts on the video and the sound – the camera was a nightmare. Leave us any questions or comments below, and check out the rest of our Supanova coverage here.