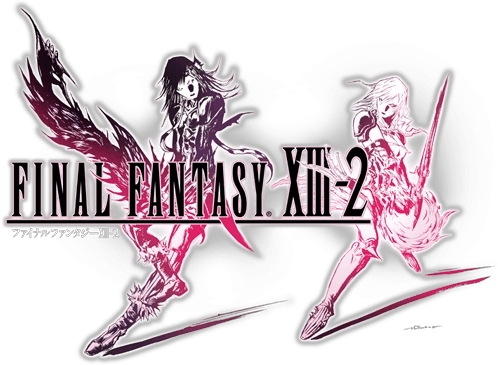 Square Enix's booth was very elaborate and had plenty of things to see, but the best of these was Final Fantasy XIII-2 of course. The Square Enix rep. gave me a brief rundown of the title and told me that they have made a few changes in this sequel so that all of the fans that cried foul about the linearity of the first XIII would find some sort of middle ground in XIII-2.
Our experience first began with the new character Noel and returning but newly playable character Serah, Lightning's younger sister. The two of them are thrown from a portal device which the representative could not elaborate at the time as to what these devices would be. The two were joined by a flying moogle who is a bit different from your average moogle as this one can actually speak full sentences instead of just saying "Kupo" which is your standard moogle language.
The three of them are very quickly attacked by a gigantic hand that rose from the ground and began smashing the area all around them, this hand was attached to a partially invisible creature known as Atlas and before we could run away, battle was entered. The moogle that accompanies the two shows another unique feature as it transforms into Serah's weapon a bow and arrow set.
The sheer size of Atlas was well shown on the battle screen as the only piece of him that we could see at any given time was the hand that we were attacking and his partially invisible lower body. The battle system for XIII-2 is quite similar to what it was in XIII with the paradigm system that allows the player to shift paradigms between a commando, ravager, sentinel and medic. Players can shift at will and can still select the abilities they want to use, but in the demo there were only two attacks so auto-battle was primarily used.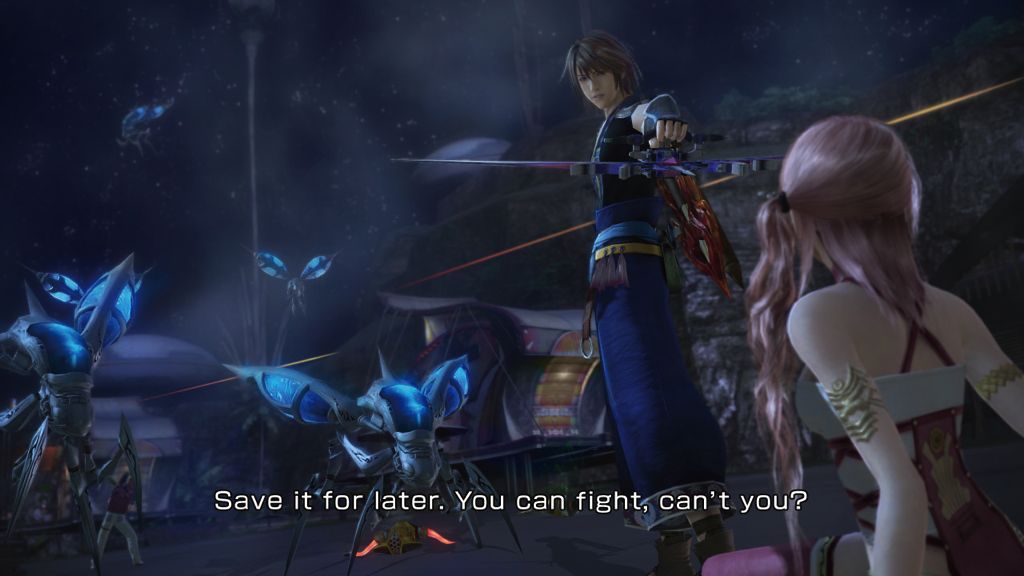 First and foremost Square Enix has removed the quick attack feature which allowed players who discovered this little work around to attack faster than normal. The battles in XIII could end quite fast as players could use this feature to quickly send their fighters out again and again, but this feature has been removed in XIII-2.
As before, each enemy can be staggered after a period of time, with the staggered enemy receiving heavy damage. Ravager magic still raises the stagger bar faster; while Commando attacks help sustain the bar from decreasing too quickly. After shifting back and forth we managed to defeat Atlas' hand, but this only was his hand of course.
Before we were able to continue the battle however, four flying helicopters appeared above Atlas and began firing upon it with missiles. The missiles showed off a new feature to XIII-2; the Live Trigger. These Live Triggers are more or less quick time events that occur in cutscenes and this one had us pressing the A button quickly to send a barrage of missiles into Atlas. We were told by the representative if we hadn't successfully completed the QTE the cutscene would have played a bit differently.
Thus we were able to explore the field of XIII-2 and we were able to see that the majority of the explanation has been unchanged. One thing that has seen an upgrade though are the weather effects as drops of rain would appear on the screen as we were walking around and the environment gave off a very wet sheen whenever we were in an outside environment being rained upon.
Random battles have returned in FFXIII-2 but they are handled a little bit differently. Upon triggering a battle a clock will appear on the bottom of the screen. If you manage to trigger combat with an enemy in the green section of the clock you will be able to pre-emptively strike enemies and cause them to instantly be staggered, if you stop it in the yellow section there will be no battle advantage, and stopping it in the red area would result in a penalty of some sort. It is possible to avoid battles entirely as some enemies will not be aggressive to your characters which will allow you to simply keep running past them until the clock expires; thus avoiding combat.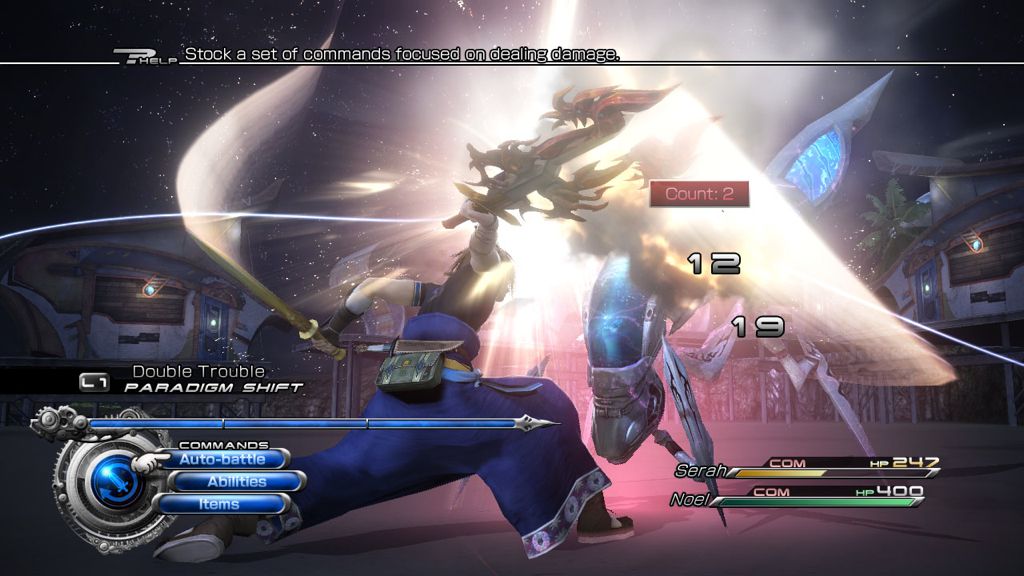 After moving further into the dungeon we came across another battle which had us face down a few flan type opponents which gave us a special crystal. This crystal allowed us to fill out our party with a third team member… a monster. The monster would help our characters in battle and would remain loyal for a period of time which was shown under its health bar. The monster at first would appear as a Flan but could be changed whenever the paradigm shift occurred, meaning that if it was a Commando type it would become a behemoth, or a sentinel type would turn it into an armored lizard. The player can then perform a special attack with the monster once a battle which will have the monster and player team up in a combined attack that deals large damage to the targeted enemy.
Besides being able to turn into a weapon, our moogle companion could also point out hidden treasure chests and unveil secret areas when told to do so. The treasure chests still appear as the floating round orbs that we saw in XIII, and hidden ones are still noticeable as long as the player pays attention.
Now earlier I mentioned that the representative told me that XIII-2 was more about the player's choices and less about story driven ones. One such experience was when we reached our objective and were faced with a choice. Atlas had reappeared and we could either choose to charge head-on, or check out a controller recently discovered in the ruins. We chose to head for the ruins and find the recently discovered controller.
After reaching the controller we attempted to activate it but Atlas' hand appeared out of nowhere, dragging both characters into a vortex. The vortex transported the characters into an area called The Void Beyond which was filled with crystals sitting upon red platforms. These are little mini-game segments which require the player to walk across the platforms and collect every crystal. The problem is that everytime you step off a platform, it disappears, meaning you cannot backtrack. The puzzle was quite easy to solve and we were told that they would become increasingly difficult throughout the game and are a way to help slow down the action a bit.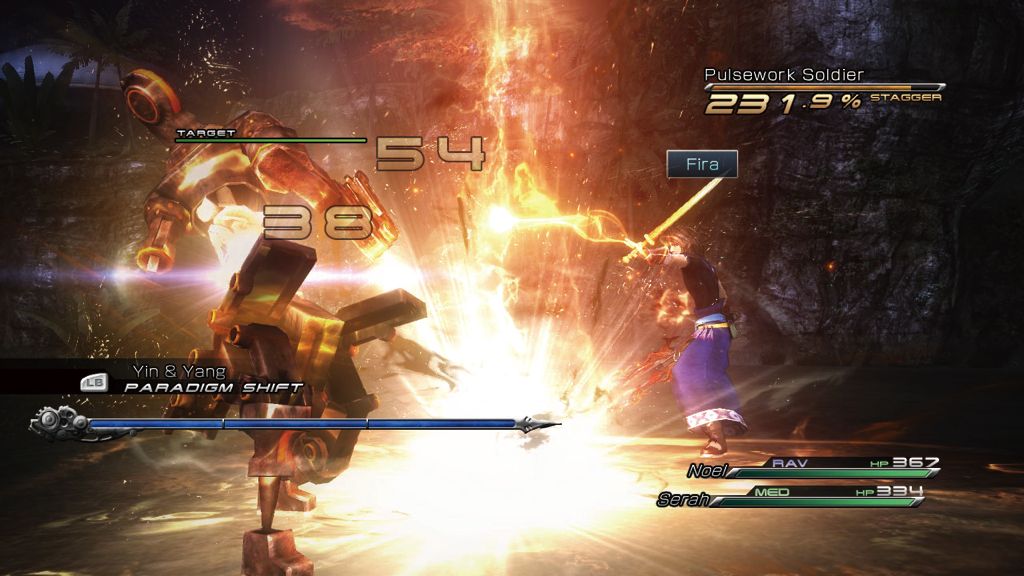 Once we collected all of the crystals and made it through a number of the puzzle areas we were thrown back out of the void next to an activated controller. After navigating our way back out of the dungeon we faced Atlas again, but this time around he was much weaker looking than he initially did. We managed to defeat Atlas after a few minutes of tense combat that had us shifting between all of our available paradigms and having our monster companion take one for the team.
Thus ended our hands-on experience for FFXIII-2, we were told that if we had charged head-on into the battle with Atlas we would have been defeated with one attack, and the proper choice is to activate the controller. The rep. went on to say that it would be possible to defeat Atlas' powered up form but due to the level limit on the demo it was impossible. I'd have to say that much of FFXIII's gameplay elements have returned in FFXIII-2 and have been polished to a shine. The ability to make choices in the game should help appease those who thought the first game was linear, but thankfully I was one who was satisfied with the  initial narrative and found FFXIII-2 a worthy successor to the previous title.