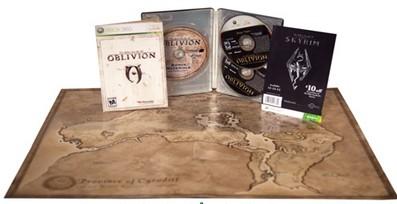 After a bit of a retailer leak revealed this news a couple of weeks ago, Bethesda officially stepped in to confirm the release of The Elder Scrolls IV: Oblivion 5th Anniversary Edition which will hit shelves July 12th for the PS3, Xbox 360, & PC. As expected, this edition will include everything a fan of Oblivion could want and will be encased in a stunning steelbook case.
Details of the 5th Anniversary Edition can be found below:
The Elder Scrolls IV: Oblivion: With the empire ready to crumble, the gates of Oblivion open and demons march upon the land. You must find the lost heir to the throne and unravel the sinister plot that threatens to destroy all of Tamriel.
Knights of the Nine: A fallen King has been unchained from the darkness of Oblivion to seek vengeance upon the Gods who banished him. Only a champion pure of heart can vanquish the evil that has been released.
Shivering Isles: Enter the torn realm of Sheogorath – a world where Mania and Dementia reign. Do you have the strength to survive his trials, to tame a realm fraught with paranoia and despair, and wear the mantle of a God?
The North American 5th Anniversary Edition also includes:
Collector's Steelbook: A beautiful collectible metal case masterfully embossed with Daedric symbols.
Making of Oblivion: A behind-the-scenes documentary on the making of Oblivion.
Oblivion Game Map: A full-color map of Cyrodiil and the Shivering Isles.
Save on Skyrim: Contains a $10 mail-in rebate offer for the purchase of The Elder Scrolls V: Skyrim and a Skyrim strategy guide.
More details will soon be released of what the versions outside North America will contain. Looks fantastic at the moment though and for those who have yet to experience Oblivion, this is your chance as the 5th Anniversary Edition will be $29.99 when it is released next month.