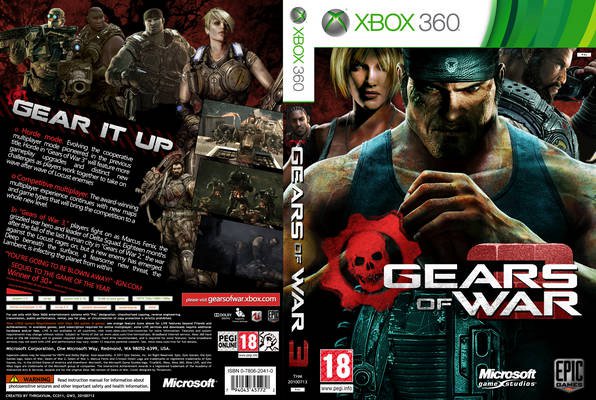 Just moments ago a Gears Of War 3 Cover surfaced on the interwebs, and well, we wanted to share it with you all.  Now… what do you guys think ?  I personally believe it's a little on the fake side, but hey I could be wrong.  If we take a look at the front of the cover the number 3 is hiding behind the words making it hard to read.  I don't think Epic Games or Microsoft would allow such a thing to go through looking like this especially if this is the final game in the series.  They'd want the 3 to stand out BIG time, but hey this is my honest opinion and as I said before I could be totally wrong.
Looking on the back (left side) of the cover, the description and information is very hard to read, can't really make out anything, the screenshots look a little on the dodgy side, the only one that kind of looks decent is the one of Dom (bottom one).  Baird, Cole, Marcus and Anya just don't feel like they belong, it looks like they've been throw in using photoshop.
I do have to say that Marcus on the front cover looks totally BADASS this is something I personally like.  Anya's rugged look also matches Marcus' which is cool, but then looking at Dom, he just doesn't fit in.  Personally he should be looking at us head on as well.
So what do you guys think.  This my 2cents worth of a ramble.  Tell us your thoughts on this cover.  The best comment will win themselves a Gear 3 Beta code on XBOX 360