Madman Entertainment's June 2011 DVD lineup is an exciting one, but none is more exciting than the release of Robert Epstein and Jeffrey Friedman's HOWL on DVD.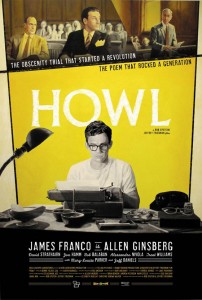 HOWL features an all-star cast with the likes of of James Franco, Oscar® nominee for 127 Hours, and Madmen's Jon Hamm. James Franco plays the young Allen Ginsberg in a tale that sees him find his voice, the nature of the poem HOWL, and the court case that resulted from his work. The film uses solely the text from Ginsberg's poem, transcripts from its trial for obscenity, and audio interviews with Ginsberg.
HOWL retails for $34.95 and is available for pre-order at the Madman site here. June will also see the release of DVDs such as Blue Valentine, Holy Rollers, Reign of Assassins and The Age of Reason.