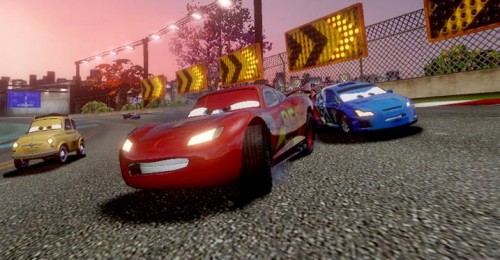 Cars 2 is set to hit theaters this summer, and as usual for just about any animated feature, a videogame has been announced to coincide with the movie's release. Cars 2 is being released by THQ and will launch on all major consoles, but the most interesting part of this release is news that the Playstation 3 version will be made with full 3D TV compatibility. After de Blob 2 also received such treatment with it's release, it isn't too surprising that this move was made with such a big brand such as Cars. The 3D features will not just be for the actual combat-racing gameplay, but will even be worked into all menu interfaces as well.
THQ have also released an official statement about the PS3 version's new visual treatment today, straight from the development team over at Avalanche Software:
"The advancement of 3D technology will allow us to immerse the player into the Cars 2 game environment in a whole new way," said John Blackburn, vice president and general manager of Avalanche Software, developer of Cars 2. "The 3D effects will ratchet up gameplay in ways that will have fans' hearts pounding when they embark on dangerous spy missions, while our innovative multiplayer with four simultaneous 3D ports will bring a whole new dimension to PS3™ gaming."
Some of you might be laughing at the idea of another Cars title period, but who here can say that they didn't grow up playing something like Animaniacs, Toy Story, or Power Rangers? The 3D is a nice add-on and I think it will work well with this title, but hopefully the gimmick won't outweigh the gameplay in the longrun as no matter what age, any gamer whether they be casual or hardcore, deserves a polished experience.
Cars 2: The videogame also will feature the same spy-themed plot as the movie and will launch everywhere on June 23rd.