In the world of video games, few voice actors can say they've had a character based on their appearance. Even fewer can say they've worked with Eliza Dushku and Michael Bay, and there is only one man who has done all that and had a successful career in sports: LaMonica Garrett.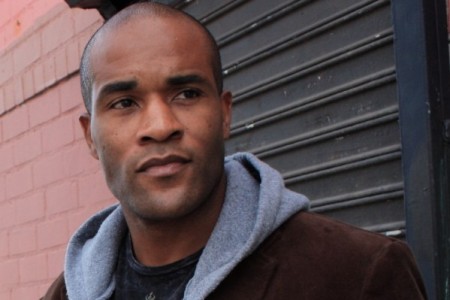 LaMonica Garrett: actor, athlete, awesome.
Garrett is the man behind Fight Night Champion's main character, Andre Bishop, a boxer-turned-convict who was wronged by two corrupt cops. But if that's not where you know his face, then maybe you've watched a few matches of slamball where he was the leading scorer, or flicked on the TV to see him on CSI: Miami or Queen Latifah's new series Single Ladies. If it still doesn't ring a bell (and you still haven't Googled him, for some weird reason), then you will definitely know him after you see him in the new Transformers: Dark of the Moon movie which comes out later on this year.
We had a chat to him to find out what it was like playing a boxer, gaming, and his acting career.
Capsule Computers: Many people believe that sporting games don't really have a deep storyline, but Fight Night Champion's Andre Bishop has a complicated past which players have to play through in story mode. How did you play a character that is plagued with the stigma of an ex-con and is trying to prove himself to the boxing world?
LaMonica Garrett: Once I studied the script I really got to know who Andre Bishop was as a man. Realizing he was framed and the injustice he suffered but still held true to who he was, and maintained his positive outlook and integrity it was easy to bring this character to life.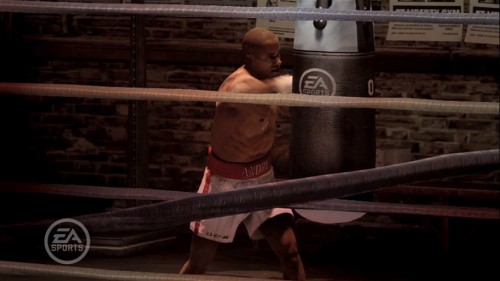 Andre Bishop in Fight Night Champion. Notice the EA punchbag and the 'Andre' shorts?
CC: A lot of people find their role models and inspiration in characters from video games. After playing Andre Bishop, do you feel that your character is someone that people can look up to?

LG: I do think Andre Bishop is someone people can look up to. This story is a prime example of how sometimes bad things happen to good people. Instead of taking the fast track to a title shot through someone he knew didn't have his best interest at heart he chose the much tougher route and showed great loyalty to his old friend and trainer Gus. Because of that he was set up, and wrongfully put in prison. Instead of complaining, pointing fingers and giving up he remained true to himself and stayed strong mentally and physically and fought through adversity. Everyone has their own storms to fight through,and  usually people with positive attitudes are more successful with those storms. Andre Bishop has a great attitude.
CC: "Being a champion is about having heart. A fighter can get knocked down…a champion gets back up". What impact would you say that coming from a sporting background had in your portrayal of Andre Bishop as a champion?
LG: Having played football for the majority of my life as well as slamball I was really able to relate to this character. I'm a firm believer in how sports mirrors life, how you respond in certain situations in sporting events is how you'll respond to adversity later in life. Will you get up and fight back when the chips are down, or will you give up and make excuses? When everything is going your way its real easy to be positive and upbeat. What happens after that first loss? I'm always curious to see how people respond after defeat. To me that's the true test of a champion.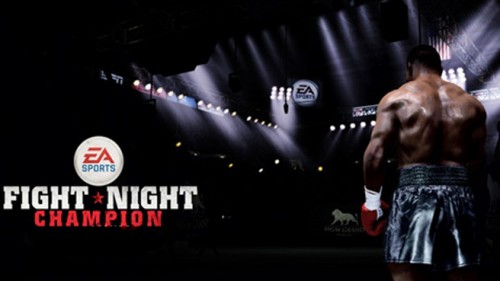 "Everyone has their own storms to fight through. Usually people with positive attitudes are more successful with those storms."
CC: Lots of actors also do a few voice acting roles for animated films or games. Do you find you need different skills in voice acting and working with CGI as opposed to the skills you use as an actor on screen?
LG: As far as standing in a booth and just doing voice over Im sure there is a difference. But shooting all the scenes for Champion Mode it felt like we were doing it for film. We physically performed every scene so I was able to able to work off the other great actors around me. I think it would be a little more difficult to pull that same emotion without being involved in the scenes and just standing in a booth.
CC: In film, the audience recognises the actor for the character he has played. In video games, the actor is hidden behind the animated character in the game. Do you feel like actors get less recognition in the video game world?
LG: Actors in the video game world do get less recognition, but if you do a good job people will ask who was that, then IMDB brings you to life. Thanks to EA I was fortunate enough to have my character modeled after me and it looks exactly like me. Even when I used to sport the fro back in the day! With that being said people still don't recognize me as Andre Bishop, but as long as the game is getting great reviews like it has been that doesn't matter all that much.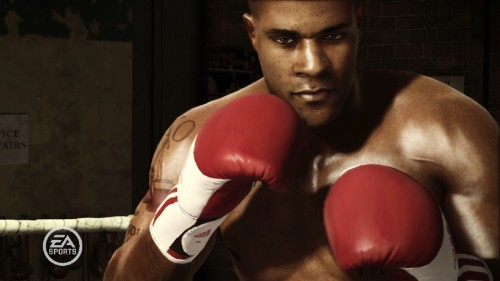 Andre Bishop or LaMonica Garrett? The resemblance is striking.
CC: Are you a gamer? What console do you own, and what are your favourite games?
LG: I consider myself a sports gamer. I've been playing on my PS3 for sometime now, but for Christmas I got a Xbox360. Back in the day I use to clean house on Punch Out. I loved playing 10 Yard Fight, and I was a beast at Tecmo Bowl!  Madden has always been my favorite game though. I also like FIFA,  ironically I've always played Fight Night, we would have tourneys at my friends house every time the new Fight Night would drop. I haven't participated in the tourney this time around yet, gotta get my skill level up. I got dudes gunning for me right now for obvious reasons.
CC: Have you played Fight Night Champion? If you have, is it harder to play as the character in the game, or portray the character in acting?
LG: I have played Fight Night Champion and I would say it was harder to portray Andre Bishop than to play him in the game. I was really into it when we were shooting and I found myself really disliking Frost and I couldn't do anything about it, so that was hard. In the game I can try and put his head in the first row, that's fun!
CC: Your role in Transformers 3 is your first role for a major feature film. How was the experience of working in such a high profile film with a director like Michael Bay? Was there a lot of pressure, or was it more exciting?
LG: Working with Michael Bay on Transformers 3 was an adrenaline rush. I felt more excitement than pressure. Working on a film of that magnitude with a great director like Bay, and the great actors I worked alongside I had some nerves going. But they were the good nerves like when your coming through the tunnel for a big game. You settle down after that first big hit then its game on. Great experience, I look forward to that feeling again many times over!
"Will you get up and fight back when the chips are down, or will you give up and make excuses?"
CC: You mentioned in an interview with The Celebrity Cafe that your goal is to be an action star. What is it about action that makes you want to play that role?
LG: Growing up I always gravitated towards action films. If I were to sit here and name 10 of my favorite actors more than half would be from an action genre. Something about the physicality of it all. What Matt Damon did in the Bourne trilogy was masterful to me, as well as Liam Neeson in Taken.  As an actor I love challenging myself with different roles but action will always be at the forefront.
CC: Plenty of websites have now said you are an upcoming multimedia star, and that your career is really taking off now. Is this where you see yourself? Is acting in video games going to be on the agenda in the future, or is it all film, TV, and film from here on?
LG: I'm extremely happy with the success I've had lately in film, television, and in the video game world. I'm blessed to be apart of a game changer like Fight Night Champion. Being labeled a multimedia star is flattering, but most important I just want to continue to do what I'm passionate about which is acting, and whichever avenue enables me to do that I'm all for it.
Thanks to LaMonica Garrett for taking the time to speak with us. If you want to have another look at Garrett in Fight Night Champion, we've included one of the trailers down below.