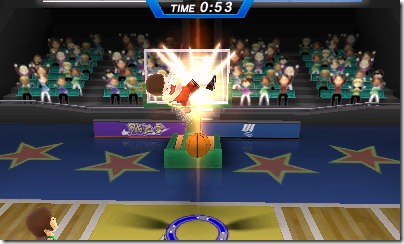 Hudson's sports series is making its first foray onto the 3DS, through Deca Sports Extreme (or as it's otherwise known elsewhere, Sports Island 3D). As such, the game has been giving a trailer showcasing each of the ten sports on offer. That's right ten sports:  Soccer, Tennis, Basketball, Ice Hockey, Snowball Fighting, Sumo Wrestling, Bowling, Snowmobile Racing, Sport Blowgun and Trampoline.
It will allow players to customise their teams, and as the game progresses new venues will be unlocked. The game promotes a competitive spirit with a four-player mode facilitated either via wireless play or download, with a number of competitive modes offering the chance to compete against each other or work together in teams.
Depending on your area, you can expect the game to come to 3DS in May or June 2011.