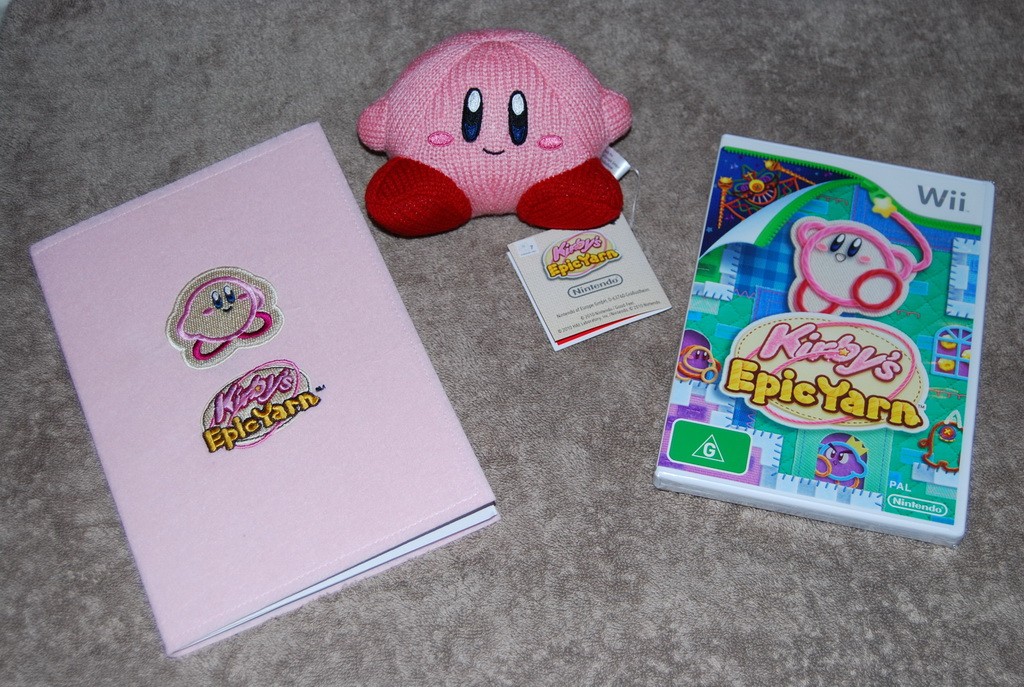 Kirby Epic Yarn Cloth Notebook, Cute 'n Cuddly Kirby & Game Courtesy of Nintendo
Bursting At The Seams With Fun, Cute lil Kirby is back and available right now across Australia and New Zealand on the Nintendo Wii.   Play as the lovable Kirby in a world where everything is made of yarn and fabric in this really epic platform game suitable for all ages.  This is by far Kiby's biggest and woolliest adventure yet!
Everything in Kirby's Epic Yarn is styled to reflect the game's inventive textile theme, from its charming environment and devious enemies to Kirby himself.  You can tug on zippers, swing on buttons and pull on stray threads to reveal hidden areas.  A new Yarn whip allows Kirby to disarm and unravel his foes or roll them up into balls of yarn that be lobbed as obstacles.
The fun doesn't end there, Kirby can transform into amazing new forms of all shapes and sizes.  As you dodge obstacles and clear levels, you'll be able to transform Kirby into new forms such as Car Kirby, 2-Ton Kirby and Parachute Kirby.  Special level specific transformations include Tank Kirby, Surfboard Kirby and Spaceship Kirby!  All these cool features makes Kirby's Epic Yarn a unique action platform game and one that be enjoyed by everyone in the family.
Now not everything is all cute and cuddly in this world of wool and yarn, a powerful sorcerer named Yin-Yarn transforms Kirby to a realm called Patch Land.  Along with fearless Prince Fluff, Kirby must recover strands of magic yarn that will help keep this wondrous cloth-based kingdom from coming completely unravelled.
Do you have what it takes to save the Yarn Kingdom ?  I know you do !!! 
Kirby's Epic Yarn is currently available right check out our review of the game here.     Pick up a copy of the game from online here.