MasterAbbott recently sat down with several members of The Behemoth team inlcuding Dan Paladin, John Baez, and Kelly Revak.  The Behemoth are newest product sponsor of Capsule Computers.   The Behemoth is an independent console game developer that specializes in making collectible games that are fun to play and beautiful to look at. Founded by veteran console developers in 2003, the Behemoth is headquartered in San Diego, California.  They are the creators of both Alien Hominid & Castle Crashers. 

Enjoy the interview below :
Question 1 : Do The Behemoth create games on all the major platforms, such as PC, XBOX, PS3, Nintendo, DS, iPhone ?  Is development of The Behemoth Games done in-house ? How many software developers are  employed by The Behemoth Games ?
-The Behemoth is a licensed developer for Xbox360, PS3, and wii.  We do all the development of our games in house. We make our own dreams come true.   Currently The Behemoth has about 12 people on the team, and that is with a big recent expansion.
Question 2 : The Apple iphone / iTouch is starting to be one of the biggest consumer products used worldwide at the moment for mobile gaming.  Currently how many iPhone / iTouch games do The Behemoth  have available for purchase via iTunes ? Do you have any plans to develop new titles for the iPhone ?
-While we don't currently have any games available for iPhone or iTouch, we hope to do some stuff for mobile gaming at some point. We just have so many things going on already!
Question 3 : What was the development process like in creating the ever so popular Castle Crashers ? What sort of research was done in creating a new and certainly very enjoyable and challenging game for players, please explain the entire process  from Storyboarding, concept art, QA etc.
– The early inspiration for Castle Crashers was the flash game Dad n' Me that Tom Fulp, Dustball, and  Dan Paladin worked on.  It was well received, but to make a console title we needed a better concept than beating up children, lol.  So we started thinking about four player adventure ideas and once we got to the Knight character we decided to start running with that. From then on, it was really just a matter of playing with things until it felt right. What we really wanted to do was capture the  feeling of the old school beat em' up genre.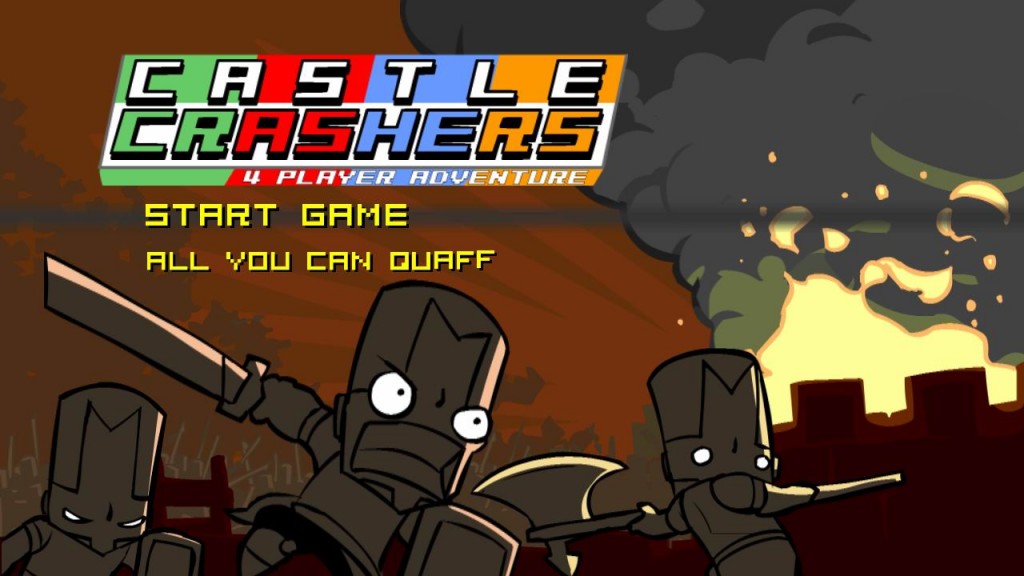 Question 4 : For new players not aware of The Behemoth.  What sort and style of games do you have available for consumers.  Please explain in as much detail the broad range of titles available to consumers.  Are most of the Games created by The Behemoth only suitable for a specific age rating or can anyone enjoy playing The Behemoth Games.
– We currently have 2 games available , Alien Hominid HD, and Castle Crashers. They both have 2D hand-drawn art and a lot of humor. While there is some cartoony violence,  there are "gore settings" so you can take that part out to make the game more suitable for younger players.  Since  Alien Hominid, we've been working to make our games more and more accessible to wider ranges of players. We've heard from fans of Castle Crashers that an age range of kids just barely old enough to hold a controller up to grandparents are enjoying playing it, so anyone can play!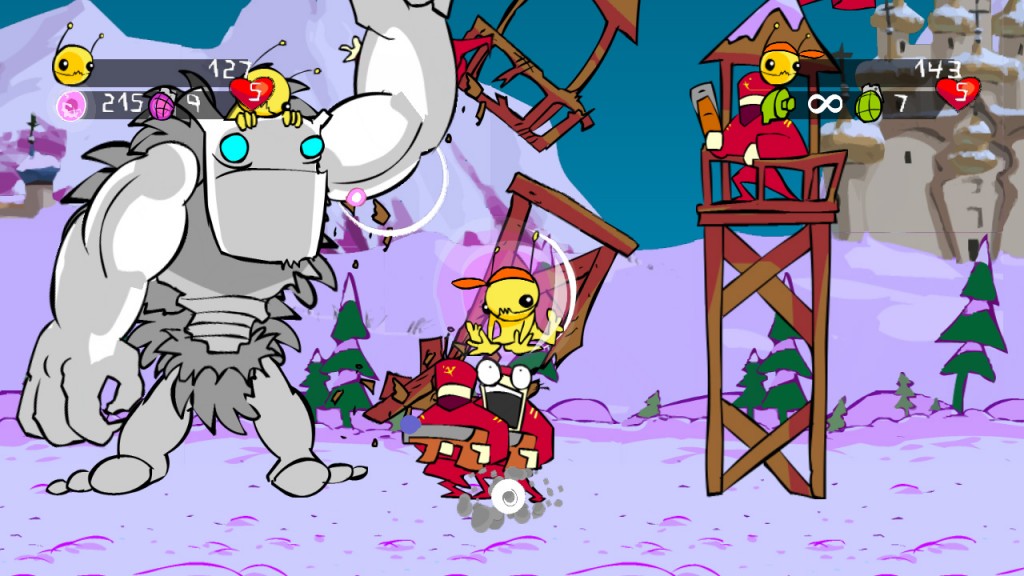 Question 5 : Finally what can fans and consumers expect to see in terms of innovative, creative and new games from The Behemoth.  What new titles can we all expect to see in the future and on what gaming platform will they be made available on.
-Hopefully just a string of awesome fun titles! The new game we're working on, we don't have a name for yet so we've just been calling it Game #3. Its a 2D platformer with lots of elements of other genres going on. Its already really fun and crazy, and we're not even done tinkering with it yet.  Platform(s) are still being determined for this title. We are also currently working on bringing Castle Crashers to the PS3!
Once again Capsule Computers would like to thank the team over at The Behemoth  for taking the time from their busy schedule in answering these questions and informing our readers about The Behemoth, its history, its games and it's future. 
* Want to win a BEHEMOTH Game ?  POSSIBLY CASTLE CRASHERS on XBOX LIVE ARCADE ?? *

Leave a comment below. 
Tell us what you think The Behemoth should call their new platform game they have named as GAME #3 for the moment.   
Let's try and get 30-60 suggestions once we get there, I'll pick 5 winners (OR Maybe The Behemoth might pick them… SO MAKE THEM GOOD !!)  Who know's they might even use your suggestion to name their game !!
Also feel free to link this interview on your blogs or in your twitter.  The sooner we 30-60 comments to sooner someone wins.