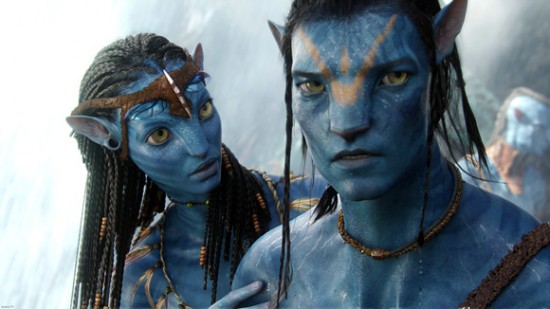 According to official statistics. After just 17 days Avatar has already made over $1 billion in gross ticket sales, putting it in 4th place of all-time movies. On the top is Titanic with $1.8 billion, The Lord of the Rings: The Return of the King with $1.12 billion and Pirates of the Caribbean: Dead Man's Chest with $1.07 billion. It will still continue to rise, presently its sitting at $1.02 billion and will certainly make its way to 2nd spot. Giving Mr Cameron the honor of producing 2 of the biggest movies ever made. Now all we need is a 3rd and he can then retire 😉
Even though the Story to Avatar was not very original, everyone's been comparing it to Disney's Pocohontas. But one thing we cannot question or fault the amazing and spectacular visuals and animation especially when seen in 3D.
The box office amount is fueled by 3D and IMAX ticket sales (tickets are more expensive than regular movies tickets). Breakdown of sales : $352.1 million domestically : $670.2 million internationally and $66.4 million from IMAX theaters. I personally have gone to see Avatar twice once in IMAX and then in a regular theater with no 3D and the experience was no where near the same. If you want to experience this movie in all is glory. Then IMAX or a theater that provides 3D is a must.
Along with the success of the movie Gameloft have lowered its price on the Avatar iPhone game. It's now down to $8.99 US. It's actually quite a well rounded game and very enjoyable. Check it out below click on the Buy Now button to be taken to the iTunes store.
–
Best iPhone apps at AppStoreHQ