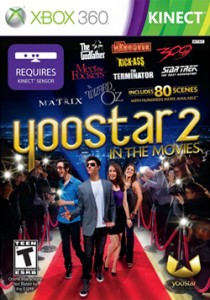 Yoostar 2: In the Movies
Developer: Blitz Games
Publisher: Yoostar Entertainment Group/ Namco Bandai
Genre: Party/Simulation
Platform: Xbox 360 Kinect, PlayStation 3
Released: 11th March
For anyone who isn't aware, Yoostar 2: In the Movies allows you to put yourself in iconic scenes from numerous films and also a number of television series, utilising Kinect to remove the previous star of the show, then inserting you in their place. In the run up to the release of Yoostar 2: In the Movies, I actually allowed myself to get a little bit excited. When the curtain was slowly lifted on a stunner set list which featured a good mix of contemporary hits and old classics, it seemed like you'd have been a fool not to. There's 80 scenes in total, from popular films such as 300, The Hangover, Casablanca, The Godfather and I Am Legend just to name a handful, with the added feature of having dialogue-less backgrounds from a selection of other films, plus other made-up sets to act out your own masterpieces in. Perhaps I was misled by some of the video content before its release, maybe I was just naïve, but the seamless cut-out of the players outline was not that shown was not a reality in a typical playing space.
By "typical playing space", I am going on the assumption that most people's living rooms don't come equipped with the "green screen" background needed for the crisp silhouettes advertised. The reality is a rather grainy cut-out of yourself which tends to chop off the top of your head as well as a very rough-edged outline of the rest of your body. However, like most of the drawbacks of Yoostar 2, it's hard to pin this down as one of the game's faults, but rather one of the limitations of Kinect. Such as the fact that Kinect can't sense fingers. If acting in your scene you go to make a gesture using your fingers like a thumbs-up, you'll be slightly perplexed to see that onscreen, your precious digit has disappeared.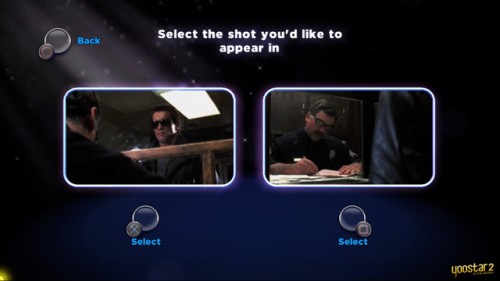 In a bid to make Yoostar 2 more accessible, each scene is from the same sort of perspective. There isn't any close up head-shots and there's also a lack of action scenes. Instead, all scenes have you standing at a similar distance away from the camera. It would have been interesting to be able to capture each shot individually to create an authentic scene, but let's not split hairs here, that's not what Yoostar 2 sets out to do. You can't deny that Yoostar 2 is accessible. In fact, it takes very little instruction to begin and just about anyone should be able to jump in and perform for the camera. Although action scenes like sword fights aren't plausible, it's a shame that there isn't scenes with, at the very least, some aspect of movement. On the other hand, variation does come in the form of the different surroundings of each scene. The scenes from the inside of a car, in particular, yield some funniest results, although each of the alternate environments have their own comedic merits.
Some problems also arise regarding the resting height of the Kinect sensor as it seems to be prone to resting with the focus of the camera around chest-height, meaning occasionally you'll have to re-adjust your positioning in order to get everything in the frame. Before each scene, you frame-up with onscreen outline to ensure you are standing in the right place. Again, maybe it's the Kinect being unresponsive, but you'd think problems relating to the framing should be sorted out in this pre-acting screen with the Kinect auto-adjusting its angle.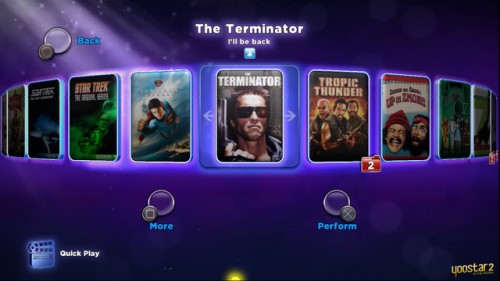 However, not all of Yoostar 2's shortcomings can be blamed on the hardware, because while it's a great concept, in parts it is also a flawed one. After selecting the scene you want to perform, you are then given the option to do either a 'scripted' performance, which when selected provides you with onscreen visual cues of your lines, or the alternate 'Ad-lib' option, which gives you free reign to come up with your own lines and improvise, doing whatever you like in the scene without the game marking you down for misdirected speech/ not following the script. It is when doing a scripted performance on your own that some of the flaws in the concept become apparent. A major one is that the lines of onscreen text require you to look directly at the screen to read what you're supposed to be saying, but doing so detracts from the actual scene because instead of looking at the character you're supposed to be talking to, you are looking straight at the camera. If you try to go without reading the lines off the screen then there is little sound to go by either. The sound is dimmed down to avoid the Kinect microphone picking up on any noise coming from the television speakers, but as a result of this, if you don't look at the screen you can often have little idea of how the scene is progressing and when speak. If you try to combat this by turning up your TV volume up so you can hear what's going on, then it is more than likely there will be some sound interference with the recording, and when you play it back, the default actor will have an echo on his/her dialogue.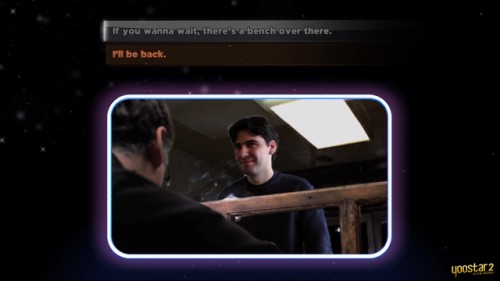 As such, Yoostar 2 is better played with a friend in the simultaneous two-player co-op mode, using creativity instead of the original script. This way the game is absolutely hilarious, especially with the option to replay clips to friends and family after you've saved them in the 'My Films' area of the game. Yoostar 2 also features some social networking options in the form of Yoostar Playground which allows you to link the game with Facebook and Twitter to share creations with friends, and moreover, has a rating system in place that grants you the ability to judge other people's clips. As will always be the case with any compilation of films, there's going to be something that people complain has been missed out. Thankfully, DLC support from the developers should be able to add more scenes to meet the demand of the fans (The Big Lebowski, please) assuming, that is, that it abides by the PEGI 12+ age rating (I guess that's a no to The Big Lebowski then).
All in all, with a bunch of witty, inventive mates on hand and a little bit of imagination, Yoostar 2: In the Movies is an absolute riot and one of the most hilarious titles on Kinect. However, flaws exist with the concept which make acting alongside the original characters awkward, and some limitations of the Kinect sensor rear their ugly heads and have a negative impact on the gameplay at times – which is why the game is best played two-player, not necessarily following the script. The 80 scenes plus extra sets don't go a long way, and soon enough you'll have extracted all the movies you know or are interested in. This means that, despite the promise of DLC support which should inject a couple more hours to its lifespan, its hard to justify full-price for what will probably only end up as a few solid evening's worth of entertainment.
Pros
Hilarious in the right hands
Stellar line-up of films at its disposal
Social network features
Cons
Concept is flawed in places
Kinect limitations
A selection of 80 scenes doesn't go a long way (although DLC should go some way to solving this)