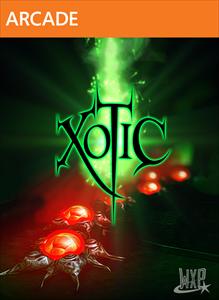 Xotic
Publisher: Valcon Games
Developer: WXP Games
Platforms: XBLA (reviewed), PC
Release Date: 11/16/2011
Price: 1200 MSP – Available Here
Overview
You can't argue it-there's a lot of damn FPS games these days. Many of which are generic military shooters, and it's becoming harder and harder to pick the crap from the quality due to the huge amount of titles out there right now. Sadly, it's a rarity to see games like Xotic, as it's titles like these that take risks and spit in the face of the cliché and offer unique and refreshing experiences. However originality often means stepping out of the general public's comfort zones, and risks do mean there is a chance of the game being less than spectacular. This defines Xotic perfectly-for better or for worse, it's an exotic experience.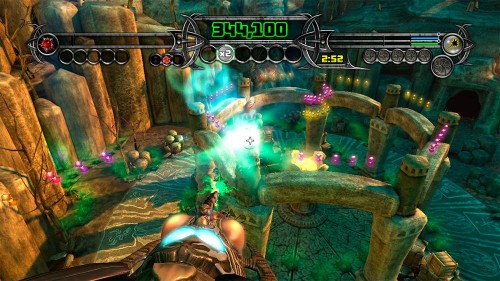 Gameplay
The concept of Xotic is a bizarre but interesting one. WXP Games have taken an interesting concept of combining old school and modern gaming elements into one unique game. The best way to describe it is just simply take a typical FPS engine, nothing too over the top and give yourself arm cannon to shoot a lot of plants in a Metroid Prime kinda way. Then take away the levels and give it some simple arenas/mazes…I'm talking like Pacman simple…and put a strong focus on racking up combos and collecting points like you know…every 80s/early 90s video game ever! There is very little focus on shooting enemies that shoot back at you here-its more about shooting plants in a particular order to rack up combos and high scores. Hell, there's so much of a focus on this that the leaderboard is shown at the end of every level. Chances are, you've never played a video game like this one before. Xotic feels very familiar in both the sense of presentation and gameplay, but in two separate ways you've probably never expected to witness together before.
While all these high-score chasing elements of shooting plants, gaining multipliers and scoring XP to level up in the process do become addictive, this is only a mild distraction from the painful mediocracy of the rest of the title. Combat with enemies is a huge choir, with an unnecessary and awkward covering system feeling almost unfinished. Also it's complicated leaning system while unique, does more harm than good. Navigation in some levels can be difficult although it does seem simple, and the repetitiveness while forgivable in retro titles, only makes advancing even more boring in this game. It's 2012. Gamers have short attention spans, we need to be entertained! Overall the concept while interesting does show promise, but nothing follows through. It sounds like a fun idea and maybe it could've been-but the execution unfortunately fails to deliver any fun after the first 15 minutes.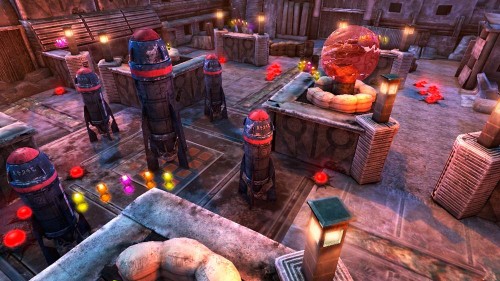 Audio & Visual
It's really hard to judge the visuals of Xotic, because it's hard to tell what exactly the developers are aiming for. At times it seems reminiscent of something from a Tim Burton film, sometimes it feels once again like Metroid Prime only stripped down and less detailed. Regardless of whatever theme it's design is going for, the most important issues is the games' visual presentation. Xotic takes a huge risk here by avoiding the typical realistic, gritty look of the modern FPS game and instead focuses on bright colours for a more retro feel. Also textures are decent, but not really to the high standard of most modern titles. This begs a powerful question: were the developers really aiming for this on purpose to claim it as old school presentation, or is this just an excuse for making a game that looks less than spectacular? Either way it feels like your playing a PlayStation 2 title. If that's a good or a bad thing is debatable, but in the end it's still pretty clear the game looks dated.
What can't be argued is the fact that whoever composed the audio for this title most likely didn't really know what the heck they were doing. The soft, techno-ambience soundtrack while managing to capture the atmosphere of the stages, it never captures the atmosphere of the actual gameplay. For such a fast-paced game, something more upbeat would've been prefered. It constantly feels out of place, and disconnects the player from the experience.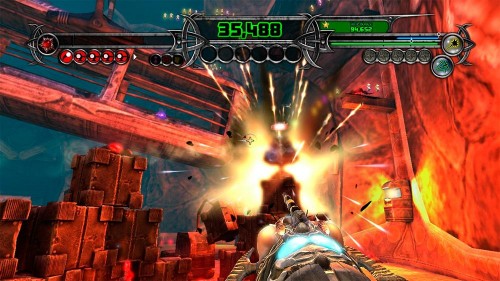 Overall
Xotic for me represents the beauty of indie developers. These guys can take huge risks and try and take on ideas most developers wouldn't even dream of. Unfortunately, risks always have a chance of flopping, and in the case of Xotic it doesn't really pull through. It feels throughout the entire game your playing a pitch or an idea, or the foundations of great concept that's incomplete. The entire experience feels like it's missing it's 'X-factor' or it's major selling point as all it is really is throwing you in a small room and shooting some plants on a wall for target practice. Hardly innovative and hardly entertaining. To make matters worse it seems like even the developers didn't know what to do with their concept, as the game feels like a combination of random ideas that don't blend so well together, and some that could've but haven't been blended well. It's not all bad, but after about 15-20 minutes you've seen all you really need to. I commend WXP Games for trying something different, but unfortunately the only other positive thing I can say is better luck next time.