Page 1 Page 2 WWE Wrestlemania 28
Company: World Wrestling Entertainment
Location: Miami, Florida
Arena: Sun Life Stadium
Date: 01/04/2012
Price: $54.95 Order Here
*All photographs featured in this article are a property of World Wrestling Entertainment and can be found on their official site.
Overview:
The biggest pro wrestling event of year, Wrestlemania 28, has finally wrapped up and the Capsule Computers staff will be sharing their thoughts on the event in the upcoming episode of the CC Powerslam podcast. In the meantime, you can have a read of our formal review of the event where each match is individuality evaluated and given a score out of 5, followed by an overall score for the event.
Wrestlemania 28 took place in Miami and was built around the feud between The Rock and John Cena, with their match being booked a year in advance. The other iconic match that was on the card was the Hell in a Cell match between Triple H and The Undertaker, with Shawn Michaels serving as the special guest referee. The main theme of that match was around Undertaker's undefeated Wrestlemania streak and how the match marked 'An End of an Era'. More on those matches later, so without further ado, let's get ready to rumble!
WWE World Heavyweight Championship Match: Daniel Bryan (c) vs. Sheamus
This simply was not a match, it was 18 seconds long and had Sheamus squash Daniel Bryan with his signature Brough Kick for an instant win. It's unfathomable as to why a World Title match played out this way, and why Daniel Bryan and Sheamus were booked so poorly.
Last year at Wrestlemania 27, Sheamus and Bryan were supposed to have a US title match on the main card but were then demoted to a dark match and not even featured in the main broadcast. However, this Wrestlemania 28 encounter, a World Title 'Main Event', made both stars look like an absolute joke.
They got air time at Wrestlemania, but at a heavy price. The time they wasted on pointless backstage segments and that embarrassing Brodus Clay moment should have been used for this match instead.
Overall: 0/5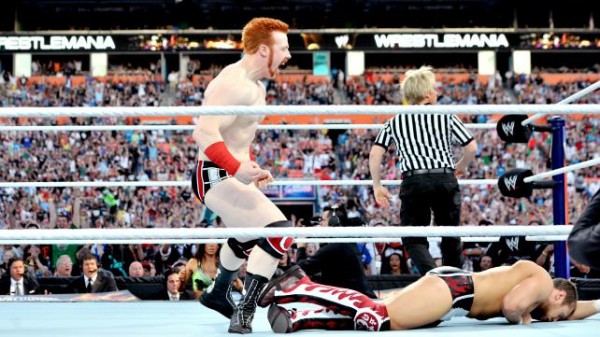 Randy Orton vs. Kane
This match served as a continuation to the really solid rivalry between Randy Orton and Kane during the summer of 2011. It was a bit hard to enjoy this match right after the abysmal opening World Title match, but it was nicely worked, nothing extraordinary but it had a nice pace and some good back and forth action. What was really good about this match was that Orton was not able to land a single RKO finisher, while Kane came out strong with an impressive top rope chokeslam for a huge win. Kane needed this win after a pointless feud with John Cena during the start of 2012, and a huge Wrestlemania victory over Orton puts Kane's career back on the right track.
Overall: 3.5/5
WWE Intercontinental Title Match: Cody Rhodes (c) vs. Big Show
This match had a really good build up, thanks to Cody Rhodes and his entertaining promos. However, the actual match itself was just poor. Going for just five minutes, it hardly showcased what Cody Rhodes was capable of and all it really did was give Big Show an easy and dominating victory. No thrill, no excitement, it was a disappointing showing and Big Show's emotional celebration was hardly a Wrestlemania moment. If WWE wanted to do a quick squash match, it should have been this one and not the World Heavyweight title match.
Overall: 1.5/5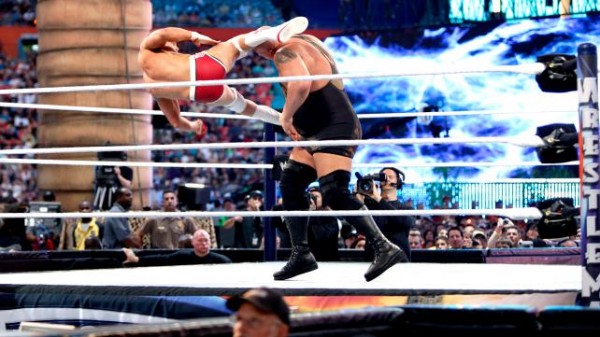 Kelly Kelly and Maria Menounos vs. Beth Phoenix and Eve Torres
It's no secret that the women's division has been buried by the WWE in the last five years or so, as we haven't seen a decent women's Wrestlemania match since Trish Stratus and Mickie James at Wrestlemania 22. The past few Wrestlemania events have not done the women's division any justice, but this tag team match in this year's Wrestlemania featuring Maria Menounos was a bit of an improvement, but not by much. Kelly Kelly pulled off some decent moves and Maria did alright considering she was suffering from injuries, but she sold the offense poorly in terms of expression/emotion. It was your typical celebrity mania match with the celebrity coming out strong. It could have been a lot worse.
Overall: 1/5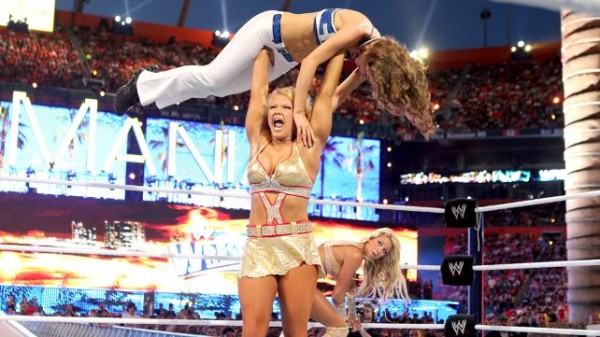 Hell in a Cell Match: The Undertaker vs. Triple H. Shawn Michaels (special guest referee)
A lot of people felt that this match was overbooked and that it had too many unnecessary elements, in particular Shawn Michaels who ended up taking the spotlight away from the feud, and the Undertaker came out looking almost weak and irrelevant during the build-up. Thankfully, this match put all doubts and fears to rest as soon as it started, because it delivered.
Jim Ross joined in on the commentary for this match, and that alone was a pretty good move because no one could call a match like that any better than him. The match was billed as 'The End of an Era', and that moniker succeeded in creating an epic and chilling atmosphere.
The match was nicely worked and paced, and it became clear early on that the year off did well for the Undertaker as he looked in top shape and form, and his new look was actually pretty awesome. It got pretty brutal as this match had more chair shots than The Rock vs. Stone Cold (Wrestlemania X7) and Bret Hart vs. Vince McMahon (Wrestlemania 26) combined. At some point I lost count as Triple H assaulted Undertaker with chair after chair. The sledgehammer and steel steps came into play too, with the Triple H's spinebuster to the Undertaker on the steel steps being a pretty sick spot. There was also one moment where Triple H lifted Undertaker in a way that I thought he couldn't do anymore, with just one arm! So that was a pretty impressive display of strength.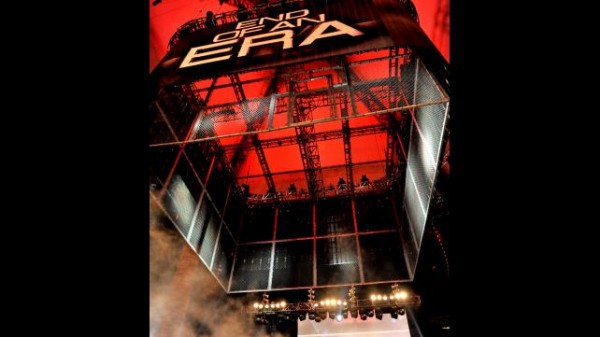 Shawn Michaels played a vital role in adding much drama and emotion to the match, there were moments where he would contemplate ending the match and those were nicely done. There was a lot of dialogue exchanged between all three participants and it felt very genuine.
There was a spot where Undertaker locked Shawn Michaels into his Hell's Gate submission to prevent him from stopping the match and what followed after that was the biggest shocker. Shawn Michaels landed a Sweet Chin Music on Undertaker out of nowhere, which was immediately followed by a Pedigree from Triple H, at that point I truly felt that Undertaker was beat and that the streak was going to end as a screw job. The match didn't end there, but that pinfall was extremely intense.
The match ended on a powerful note, in a much similar fashion to how Shawn Michaels lost to Undertaker at Wrestlemania 26. Triple H did a DX chop as one final hurrah before getting hit with the sledgehammer and a powerful tombstone. It was an emotional and symbolic ending to what was a very powerful match that demonstrated a lot of passion, heart, and great storytelling.
What followed after the match was also really cool, as Triple H, Shawn Michaels, and Undertaker, all stood together shoulder to shoulder at the entrance ramp, and even shared an embrace. A truly unforgettable Wrestlemania moment.
This match was phenomenal, and the only criticism that comes to mind is that the Cell did not play a major role. It was used briefly in the opening minutes but otherwise it was like any no holds barred contest. The Cell could have been used better, but still it had some symbolic value and given the age of Undertaker and Triple H, they did the best job they could.
Overall: 5/5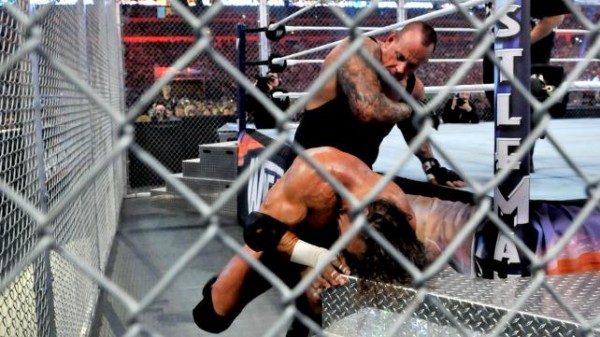 Page 1 Page 2