WWE No Way Out 2012
Company: World Wrestling Entertainment
Location: East Rutherford, New Jersey
Arena: Izod Center
Date: 17/06/2012
Price: $54.95 Order Here
*All photographs featured in this article are a property of World Wrestling Entertainment and can be found on their official site.
This year marked the revival of a very important series of pay-per-views, No Way Out. It was originally discontinued and replaced by the Elimination Chamber pay-per-view, but it has been brought back and placed in a different month. No Way Out has featured some of wrestling's most unforgettable and historic moments, who could ever forget the emotional moment back in 2004 when Eddie Guerrero pinned Brock Lesnar to win his first ever WWE Championship, the brutal Hell in a Cell match between Triple H and Cactus Jack, the WWE debut of WCW's New World Order faction, or the five star classic between Kurt Angle and The Undertaker for the World Heavyweight title. It's pretty clear that No Way Out was an important event, and so bringing it back was a smart move on part of WWE.
This year's No Way Out took place in June, instead of the usual February slot. The main event featured a steel cage match between John Cena and the Big Show, with the other major main event being the highly layered rivalry between Kane, CM Punk, and Daniel Bryan. The pre-show featured a match between Brodus Clay and David Otunga which ended in a count out. There were some bonus filler matches thrown in, the usual Ryback squash match, another pointless botch-filled match between Hunico and Sin Cara, and a surprisingly decent Fatal-Four-Way tag team match to crown the number one contender for the tag team titles. The surprise tag team match in particular gave a lot of mid-card stars like Tyson Kid and the Uso brothers a chance to shine, not to mention a very excellent high risk spot which made the crowd chant "Holy Shit!"
Another major moment was the appearance of Triple H, to address the situation regarding Brock Lesnar and Paul Heyman, and that segment would confirm the main event of Summerslam 2012, a match between Brock Lesnar and Triple H.
Thankfully, unlike the title of this pay-per-view, there is actually a Way Out of this Overview section. On with the review!
World Heavyweight Championship – Sheamus (c) vs. Dolph Ziggler
As far as opening matches go, you cannot do better than this opener to No Way Out 2012. Dolph Ziggler was in a way a fill-in for the injured Alberto Del Rio, who was originally meant to be in the match. That said, both Sheamus and Dolph Ziggler had some really good matches earlier this year and had a bit of history going into this World Title bout. The match was great, a very fast paced contest with Dolph Ziggler putting on his absolute best. He certainly wrestled much differently in this match, with some really cool spike DDTs and constant use of the sleeper hold. Sheamus did a fantastic job too, and had some good chemistry with Dolph Ziggler and pulled off a really cool finish to retain the title. Overall, the match was a fantastic opener.
Overall: 4.5/5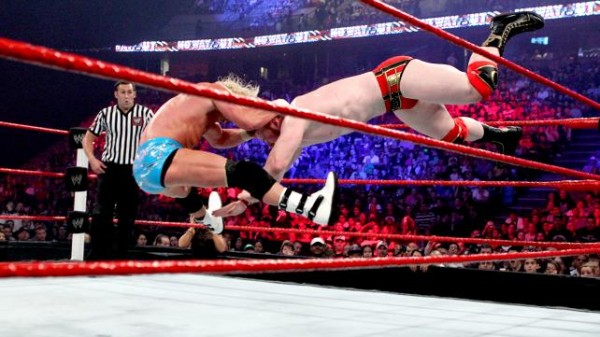 United States Championship Tuxedo Match – Santino Marella vs. Ricardo Rodriguez
On the night where the Intercontinental Championship received such a major boost in prestige and value, it's very ironic the United States Championship would get downright insulted and buried the very same night. The US title has such a rich history from the WCW era, and even the WWE variant was held by wrestlers like John Cena, Big Show, John Bradshaw Layfield, and of course the late great Eddie Guerrero. To have the title treated with such disrespect in this embarrassing and awful Tuxedo Match, was painful to witness. This match should never have happened, an absolute travesty.
Overall: 0/5
Intercontinental Championship Match- Christian (c) vs. Cody Rhodes
Following the appalling US title match was this Intercontinental Championship match, which was easily the highlight of the pay-per-view and an instant classic. Christian and Cody Rhodes legitimised the Intercontinental Championship again by putting on a truly dramatic and superb match. This match got better as it went along, with plenty of near falls, counter after counter, and unpredictable pacing. The best part was the closing moments of the match, which featured an intense exchange and reversal of finisher moves, with Christian hitting a picture perfect spear out of nowhere to retain the championship. The Intercontinental title has not looked this good in years.
Overall: 5/5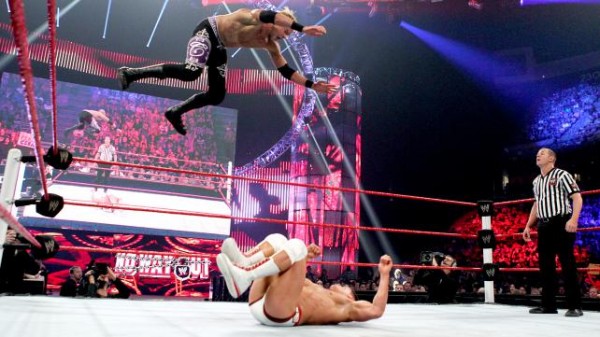 Divas Championship Match – Layla (c) vs. Beth Phoenix
As much as I admire both these wrestlers and the matches they put on together, you can only recycle this match so many times. We've seen Layla and Beth wrestle one match too many, and that's not really their fault as the women's division is sorely lacking decent wrestlers. With that said, this contest was decent, and both Layla and Beth tried to shake things up a bit to make it interesting, but in the end it was still exactly what we've come to expect from this match-up. Layla hit a pretty unexpected neck-breaker to retain the Divas title.
Overall: 3/5
WWE Championship Match Triple Threat- CM Punk (c) vs. Daniel Bryan vs. Kane
This match had an amazing build up, and the storyline is perhaps the most layered we've seen from WWE in recent memory. AJ's presence alone is perhaps the reason why things have been so interesting, and all three participants of the WWE title match brought something special to the feud. The actual match itself however, was a bit underwhelming, not that it was bad or anything, but because none of the participants brought in the quality of performance that has made each of them so endearing. Kane, CM Punk, and Daniel Bryan, could have done so much more with this match, and it seemed that they were holding back a bit. The way the match ended in an interesting turn of events, makes it clear that the feud is far from over and perhaps the next encounter will be the classic that everyone wants to see.
Overall: 3/5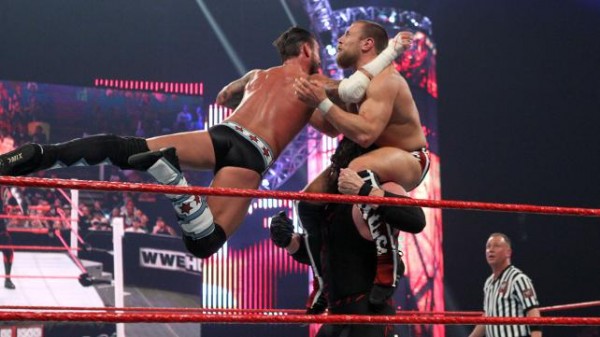 Steel Cage 'You're Fired' Match- John Cena vs. Big Show
Old school is perhaps the best word for this match, as it really harked back to the classic cage matches from the 1980s. John Cena and Big Show have never put on the best matches in previous years, but this steel cage match was entertaining. It had plenty of big moves, great display of strength, some cool high risk spots, and unpredictable pacing. It featured some solid storytelling, and the chemistry was good. The way the match ended was quite surprising and interesting with Brodus Clay playing a major role in helping Cena win the match. Overall, a well-executed match that was a lot better than expected.
Overall: 3.5/5
Overall:
No Way Out 2012 is far from being one of the best No Way Outs, or among the best events we have seen this year, but it was solid. The main event was a lot better than what everyone was expecting, and the Intercontinental Championship match and World Heavyweight Championship match were simply superb. The WWE title match could have been worked better but at least the ending was interesting. The card could have been stronger, but overall it was a good pay-per-view.