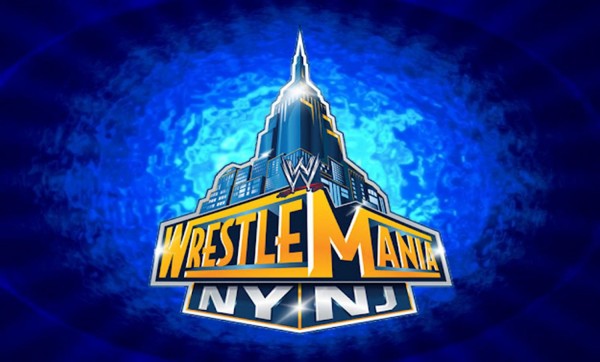 WrestleMania 29
Company: World Wrestling Entertainment
Location: East Rutherford, New Jersey
Arena: MetLife Statium
Date: April 7, 2013
Price: $59.99 Order Here
WrestleMania! It's that time of the year where all of the build up, gimmicks, and waiting pays off, as this event is the grand daddy of them all to anyone who is a wrestling fan. Wrestlemania 29 is all about tying up loose ends, as it features two feuds that have been revitalized so that the performers involved can end it all. We also have new blood entering the squared circle, with the debuts of Fandango and Big E. Langston. Undertaker's streak. The Career of Triple H. John Cena's redemption…(again). It is all on the line in one major event.
What unfolded? Have a gander at our full recap below. Keep in mind as well that the opinions below are my own, and do not reflect those of Capsule Computers. Oh yeah, this should be obvious, but:
SPOILERS AHEAD! READ AT YOUR OWN RISK!
*All photographs featured in this article are a property of World Wrestling Entertainment and can be found on their official site.
PRE-SHOW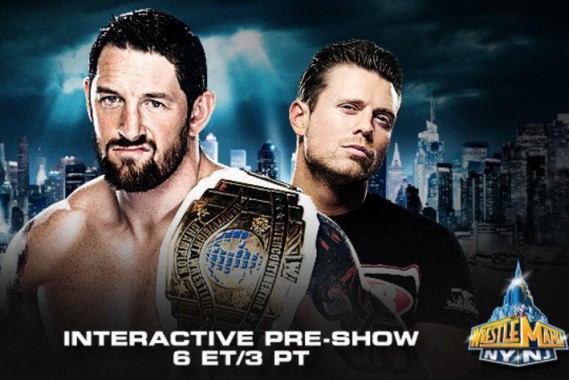 Miz vs. Wade Barrett (c) Intercontinental Championship
Remember when the pre-show for Wrestlemania was all about the mid-card talent that couldn't make it onto the big show? I do. This was back when Grandmaster Sexay and Steve Blackman were fighting the X-Factor on Sunday Night Heat, and that match to my recollection was damn good when it came to entertainment value. Now we have a former WWE Champion who just two years ago was in the main event, and has now been bumped down to pre-show act. Miz has proven himself worthy of a push with his recent run after wrapping filming of The Marine 3 (or maybe it was 2, but who really watched it anyway?), but in the WWE, his role at the moment is to get other acts over.
This match, which had not a lot of build-up between Barrett and Miz was short – but still decent and worthy of a spot. Miz and Barrett went back and forth from the start, with Barrett getting the upper hand and Miz quickly turning that momentum into his own. Barrett goes for the Wasteland, but is then countered by Miz who tries for the Skull Crushing Finale. After another reversal from Barrett, all seems lost for Miz when Wade attempts to pull off a Bull Hammer Elbow, but Miz manages to perform another counter into his newly incorporated Figure Four. After breaking out, Barrett slams Miz with the Wasteland, to which Miz kicks out of at the last second. After a take-down, Miz locks in the Figure Four yet again with beautiful elevation, causing Barrett to tap.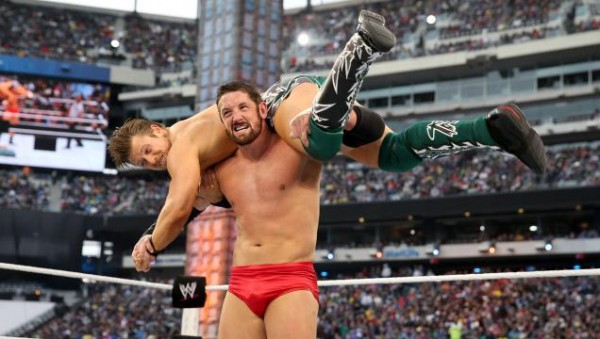 A lot of back of forth action here and the hot crowd were into the near-falls, it's just a shame it was pushed to the pre-show as these two competitors truly made it seem as if they were booked on the main card.
Winner and NEW WWE Intercontinental Champion: Miz
WrestleMania XXIX BEGINS
The show kicks off with a video showing Superstorm Sandy, and all of the damage and recovery efforts involved. This is New Jersey, and while we as fans probably want to see more hype squeezed out at the start, it's nice to see the focus on something more important due to the location of MetLife Stadium.
JBL, Michael Cole, and Jerry "The King" Lawler make their way to the commentary table and welcome the packed crowd. Let's get this show on the road.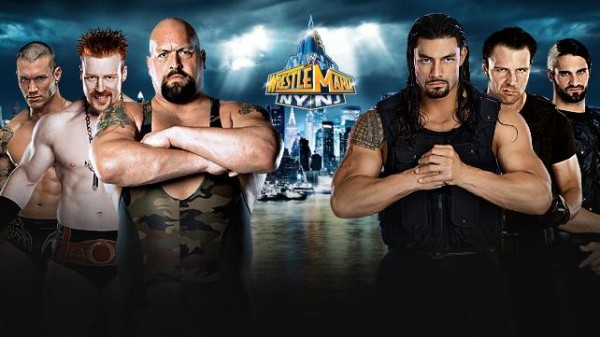 Randy Orton, Sheamus, and The Big Show vs. The Shield (Dean Ambrose, Roman Reigns, and Seth Rollins)
Ah yes, the old six-man tag. The point of this match was to put the top stars into one team that didn't have anything going on, and for the most part, the build up has been interesting. Orton, Sheamus, and Big Show have not added a lot to this feud, but they have let The Shield have time to shine. This, in all honesty, is their moment to get over..win or lose.
Reigns starts the match with the Great White in a strong fashion, throwing down some clotheslines to tell the world how angry he is at the faction. Sheamus has improved so much in the past three years, and it's a shame his talent isn't on full display tonight. A bit later, Randy "I'll do a Suplex or a headlock" Orton comes in to do just that to Rollins, showing us why he is opening instead of closing. I sound bitter towards Orton, but his run as a face can be compared to a soggy piece of bread in harsh sunlight. Back to the match, we have some offense between the two before Sheamus is tagged in yet again, who soon faces a fresh and popping Ambrose before delivering an impressive powerslam to the NXT talent. Show takes it upon himself to tag himself in, and gets the better of Ambrose before The Shield start swapping out left and right to get an advantage. Sheamus and Rollins end up back in the ring together, and I must say these two have some amazing chemistry.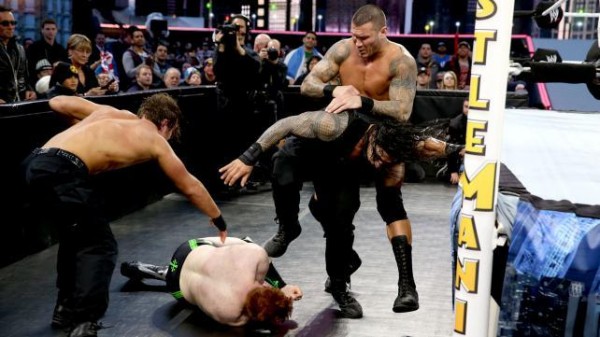 While going for a tag to Big Show, Orton steals the tag and takes matters into his own hands by delivering all of his moves on The Shield that are not headlocks. Rollins attempts a high-flying move and is met with an impressive RKO, with Reigns spearing Orton right after for the win. Where was Big Show? Well, he was puckered in the corner, moping about his lack of spotlight. Big Show nails Orton and Sheamus with the WMD after the match. Another loss for the record there, pal. So get ready for that feud people, it's going to be a long April.
Orton and Big Show do not have great track records for Mania, but this match wasn't terrible. It could have ended Smackdown nicely, but serves as somewhat interesting filler to open the big night instead. Hopefully this will get the names of the members of The Shield in the minds of fans so we can start seeing them take main event spots at next Wrestlemania (Who am I kidding, face or heel, these guys will probably get stuck in a six-man next time around as well).
Winner: The Shield
Still with me? Wash your hands, as we are going to get sloppy from here.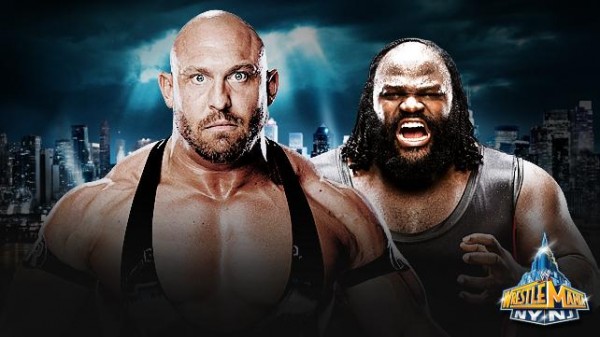 Mark Henry vs. Ryback
When you are the next big thing, are you supposed to have the crowd chant for the HEEL opponent or "BORING!"? No. You are not. It's not Ryback's fault that this match ended the way it did, nor is it Mark Henry's doing as for someone in the twilight of his career, he is still looking as sharp as ever. This match started as all big guy vs big guy bouts do, with both men sizing each other up before going back and forth with offense. I could mention every move, but these two have limited movepools. Henry does his strong slams and bearhugs, and Ryback seems to enjoy clotheslines and the occasional spinebuster. Ryback attempts the Shell Shocked, but Henry grabs the ropes – turning all of the momentum on his opponent as he falls on top for the three count. After the match, Ryback delivers his Shell Shocked – and I must say I was a bit impressed, but this match was just not made for WrestleMania.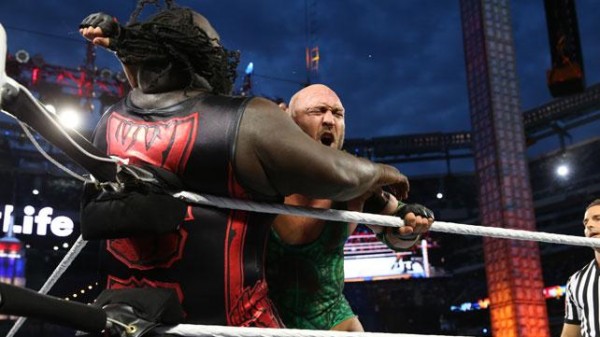 I don't like Ryback's gimmick. I didn't like Goldberg either, so maybe that has something do with it, but when you are struggling to get younger talent over so you don't have to knock on the doors of "retired" superstars to fill you main card for the biggest event in your brand, why would you have an "UNSTOPPABLE FORCE" gimmick like Ryback? He sells the merch and fans love saying his catchphrase, but he needs to retool himself to make this work in the ring with everybody. A boring match, and a forgettable note to a throwaway rivalry.
Winner: Mark Henry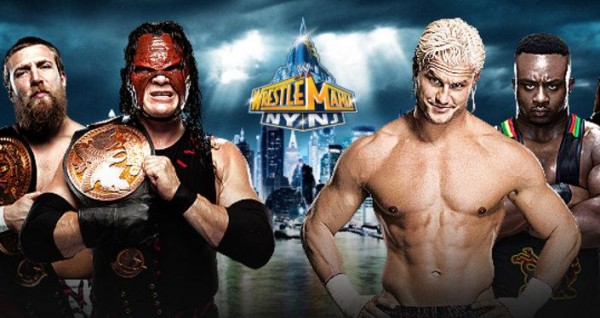 Team Hell No (Kane and Daniel Bryan) (c) vs. Big E Langston and Dolph Ziggler (w/AJ Lee) WWE Tag Team Championships
Since the WWE's attempt to keep the tag division flowing fell through, they gave these four men the chance to go at it in a tag-team match for the titles. Ziggler works well with almost anybody and can sell just as well as Shawn Michaels, so while I rather would have seen him in a ladder match or something exciting, having this booking worked well to introduce us to the mysteriously whimsical Big E. Langston, as well as ensuring Kane gets a bit of credit for all of his work during the past year. Speaking of Kane, the comedy…it's funny, but it burnt itself out as WWE used this teaming to create segments for the three hour long RAW episodes.
We start off at a good pace, with Bryan and Ziggler squaring off. Ziggler gets a kick to the head while trying to showboat with AJ Lee and after a good amount of kicks, rolls out of the way and tags in his partner. Bryan follows suit. These two, Kane and Langston that is, have some oddly nice chemistry. Everything is back and forth and unpredictable, with Kane going all out only to be caught by a barrage of backbreakers. After some more offense, we see a tag made as Ziggler gets back in to work on Kane, who is left alone due to Bryan getting knocked off the apron. Kane powers back, but gets a two count before Langston interrupts with a break. Langston taken out by Kane and Bryan (Bryan takes the big man out after he is tossed outside), and Ziggler hits the Zig Zag immediately afterwords, but it still isn't enough to keep Kane down. Ziggler does the predictable heel bit and takes his briefcase so he can pummel Kane while AJ screams on the Apron to distract the ref, but Kane ducks – chokeslamming Ziggler to hell, with Daniel Bryan leaping off the rope to finish this bout with a diving headbutt.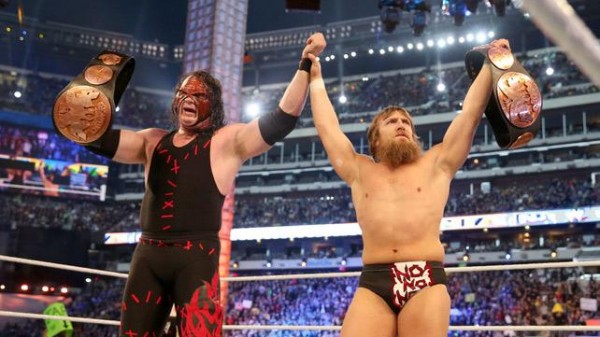 I really have no qualms with this match at all. It wasn't the match of the night, but one of the better Pay-Per-View tag matches we have seen in a long time. Everyone got a chance to shine, and Langston was impressive while in the ring. Kane needs more respect of course, as it really is hard to put anyone against the same person who kicked out of two tombstones years ago with the Undertaker.
Winner and still WWE Tag Team Champions: Team Hell No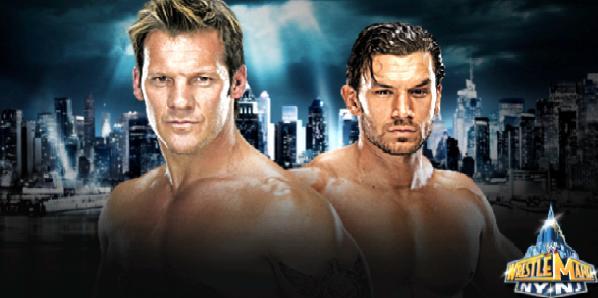 Fandango vs Chris Jericho
Ok, now we are getting somewhere. Fandango is the first star in years that made a debut and was pushed straight to Wrestlemania. WWE uses Chris Jericho at Wrestlemania these days in the same way they use Shawn Michaels and Kurt Angle. When you see Y2J booked on the card, you know the match is going to be good. I feel somethings though that Jericho is so obsessed with making sure his own spots are perfect that he forgets to put over the other wrestler involved. Thankfully, that didn't happen and while this was not the perfect debut for our ballroom dancer, it was one that will let us remember his name.
Fandango crawled out of a time capsule from the year 1998. His gimmick is strong and he carries himself with great arrogance. Kind of like someone else we know…yeah, that would be Chris Jericho. That is why this match is important. These two are so much alike in-ring, it's almost a shame we didn't see it sooner when Johnny Curtis was floating around on the Saturday morning shows. Oh yeah. The match. Well, we start off by seeing Fandango come to the ring with a set of young ladies. He is a very classy guy after all. Jericho wastes no time and starts out strong with an all out "I AM CHRIS JERICHO! LOOK AT ME!" styled attack, with Fandango falling out, coming back in, and then getting the same treatment yet again. Fandango hangs in, but gets a Codebreaker and flies back to the floor. Jericho seems pretty focused tonight, and while he isn't my favorite, I must say that not many can sell a feud like him.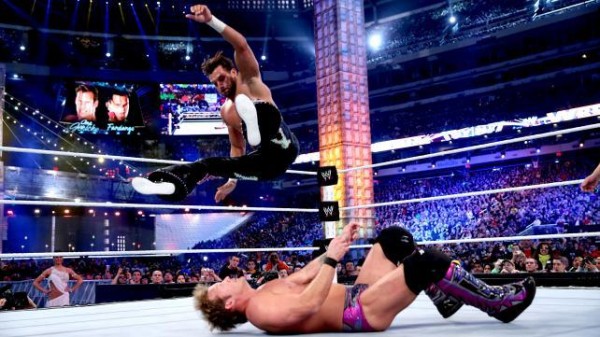 After flying out of the ring and then rolling back in, both men go at it yet again, with Jericho hitting the enzuiguri for a two count. Still raging a bit, Jericho meets the turnbuckle after Fandango dodges, leaving our newcomer with an opening. Fandango does a decent slam and heads to the top rope for what was a nice diving leg drop, but only manages to get a two count. After not connecting with a Walls of Jericho and taking more damage, Fandango tries again for the diving leg drop, but falls straight on his ass. Jericho goes for a lionsault, which was completely overshot and twists his knee in the process. He then goes for the Walls again, but cannot properly place his leg on the ground – allowing Fandango to roll up Jericho for a quick three count.
This was an impressive debut for Fandango, but like many other matches on the card – it didn't have any big Wrestlemania moments. I know, they can't all be special, but why not give the new guy a big, jaw dropping spot? He is fighting Jericho after all. The lionsault was botched, and Fandango had his knees up anyway, so the ending kind of dampened an otherwise enjoyable match a tad, but did leave this feud with some more time to grow. Expect Jericho to take another break soon, and expect Fandango to take his newly passed torch and run with it, as in my eyes, he earned it tonight.
Winner: Fandango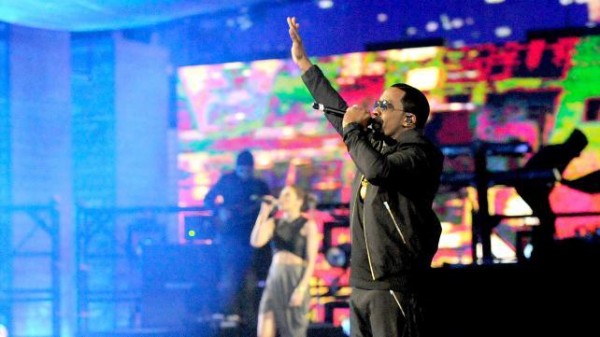 Diddy Comes out with Skylar Grey and I didn't hate it. It's Wrestlemania and as long as I am not being fed Kid Rock or Nickelback, I am happy. It also helped that we got some Mo' Money Mo' Problems beforehand, and that Diddy seemed very excited to be there despite the underwhelmed crowd. When someone says wave your hands, and this is to you – marks in the audience, just do it and stop acting like children. When you are having fun with the product, we are too and seeing half of the crowd pucker up at what seemed like a genuinely innocent performance kind of rubbed me the wrong way.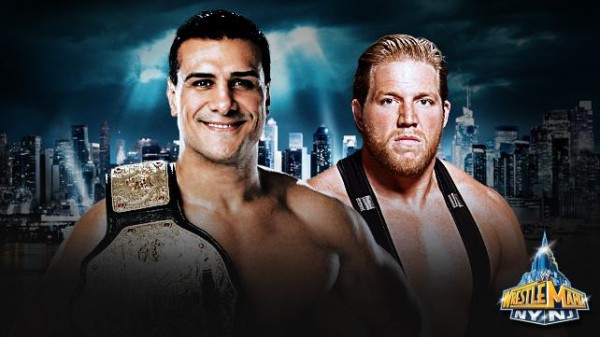 Alberto Del Rio (c) vs. Jack Swagger (w/Zeb Colter) World Heavyweight Championship
We do a lot of video game coverage here, as you probably guessed. You might know what a reboot is. Tomb Raider and Devil May Cry were fantastic reboots and did a lot to re-introduce us to an old formula. Alberto Del Rio and Jack Swagger are taking us back as well, showing us all the fun we missed with the offensive storylines from the past. You know, Rey Mysterio vs Kurt Angle, JBL vs Rey Mysterio, and hell – I'll even throw in Booker T vs Triple H, as it all falls in the same place. Maybe I don't like this gimmick because I live in Arkansas, and I have to see thousands of Zeb Colters everyday, preaching hate. I also think that Alberto brings nothing but his own talent to the equation, as the whole "only in America" routine has grown stale for the face. Luckily, these two work well together – making for a somewhat so-so World Heavyweight title match.
Colter and Swagger come out, talk on the mic about "dem perple", which brings out the challenger and his trusty sidekick, interrupting the boring monologue with a nice burst of Spanish announcing. These two start out of the ring for the most part, with Del Rio hitting a dropkick on Swagger. Colter mouths off and distracts Del Rio, letting Swagger get up and take advantage. Back in the ring, we see a 2 count from Swagger. The match quickly changes hands and Del Rio gets a 2 count. Swagger hits the powerbomb for a…you guessed it. Swagger then goes for a Patriot Lock, but it proves ineffective as Del Rio powers out. Shortly after, Del Rio hits a fantastic german suplex and attempts the cross arm-breaker, but Swagger is too fresh and battles back, eventually locking in the Patriot Lock yet again – only to be countered by the cross arm-breaker, and then re-countered into the Patriot Lock before Del Rio gets to the ropes for the save. These moments remind me of Angle vs Benoit, as when you think about it, these two are really the most technical full time roster members we have left. Anyway, Del Rio hits an enzuiguri, Colter puts Swagger's little foot on the rope, and Rodriguez tries to fight, but just has his crutches kicked out from under him for his trouble. This angers Del Rio, who is slammed while distracted by Swagger. Once back in the ring, Del Rio hits the cross-arm breaker to end the match in a ho-hum way.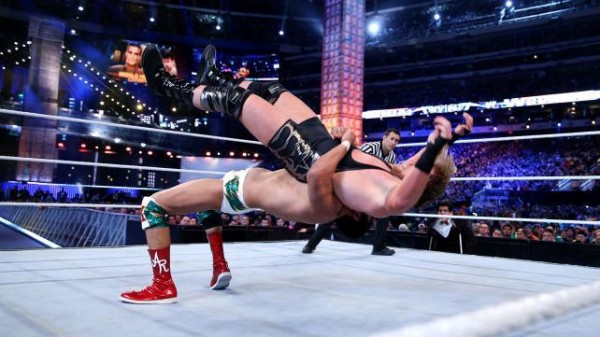 I used to hate Del Rio, but he is much better as a face as he was a boring heel. Sure, his ring-work hasn't changed, but I feel that his talent is great enough to keep him at a top level for a good time and let other superstars show their technical side. I rarely say this with Del Rio, but I hope there is a rematch between these two without the "managerial hijinx", as we could see a 5 star match down the road. That should have happened here anyway, but tonight was more about the story and less about proving one's skills, so I will accept that and wait for greater things down the road. You should all now look forward to Colter going after Hornswoggle as an attempt to weed out little people from the United States. Good times, folks.
Winner and STILL World Heavyweight Champion: Alberto Del Rio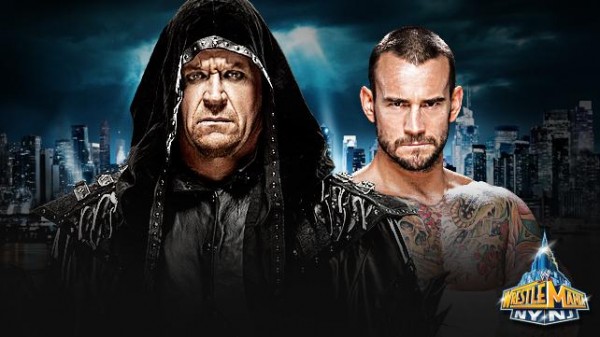 CM Punk (w/Paul Heyman) vs. The Undertaker
I don't care if the family allowed it. I don't care if it was just used for entertainment, and I don't care if the man would have wanted it this way. Paul Bearer was a REAL human being that DIED. CM Punk acted as if he were pouring his ashes on Undertaker and then licked them off his hand. That is distasteful, and a very poor way to garner heat. I used to want this WrestleMania match years ago. I really did. Taker and Punk have a lot for each other to play off of, and it makes me wonder how great the story could have been if Bearer didn't die. I imagine Punk would have captured the urn, and the little segments would following up to the event would involve Michelle McCool and some sleezy sex scandal, but that still would have been better than poking the dead with a stick.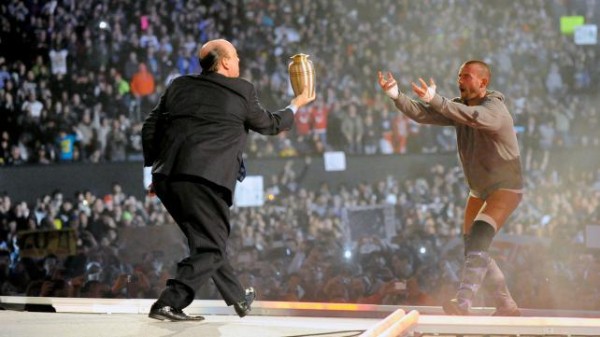 This is the match many have been waiting for. Will the Undertaker retain his streak? Well, who are we kidding? CM Punk is great, but Undertaker is not going to lose at WrestleMania. Not yet, if ever. After a nice live performance from Living Color to welcome Punk and Taker's normal slow in-ring crawl, we are off to both men attempting to punch eachother. CM Punk's speed proves to be too great for Taker, but that momentum takes a quick shift after Punk receives a big boot. Both men go to the outside for a bit before Taker gets Punk on the apron and hits his leg drop. Taker goes for the Old School early, but punk reverses it into a arm drag – knocking taker to the mat. We see some more back and forth with both men showing their technical sides. Punk then mocks Taker with an Old School of his own. Both men fight outside and roll back in, only for Punk to try the move again – but with ball-busting results on the rope. Punk is knocked out of the ring, and Taker is getting ready to fly, but Heyman jumps on the apron. Taker sets Heyman up for a chokeslam, but is knocked down by Punk who hits a flying clothesline. More offense from Punk, who attempts a GTS and gets countered with a chokeslam for a two count.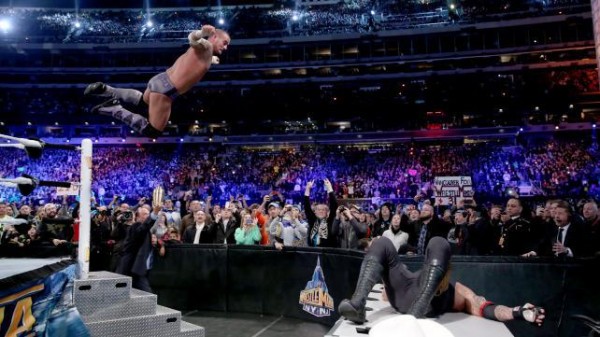 It's starting to get intense. You know, that feeling of "he may win?!"? It's those emotions that make these matches great, regardless of the fact that Taker knows he will win each year and so do we – as the viewers. Back to the match, the two battle to the outside and Punk rips the cover off the Spanish announce table. Taker gets back in the game and knocks Punk for a loop, quickly setting him up for The Last Ride into the table. It would have been a great spot, but why not just have a counter, and then have Punk go for a diving elbow? "We never seen that that in a WrestleMania match with Taker" – said nobody. Regardless, the move looked great and the impact of Punk hitting the table was loud and effective considering the table did not break. Punk rolls back in the ring, Taker makes it in at the count of nine. Both men are down, Punk rises first. Taker locks in the Hell's Gate from out of nowhere, but Punk counters and applies the Anaconda Vice. Taker breaks out, Punk Hits the GTS. Taker falls against the ropes and rebounds into Punk, hitting a quick Tombstone. Two count. Punk and Taker get up and go at it again. Taker attempts The Last Ride, but Heyman hands Punk the Urn which is used to bash Taker. Two count yet again. Both men are tired and slow. Punk goes for the GTS, which is countered into a massive Tombstone to end the match.
Match of the night? Probably. This didn't really have that special quality that most of Undertaker's matches have at WrestleMania, but I am guessing it's because I just couldn't get into the storyline. I hated the Eddie/Rey/Orton arc, and this was no different. If you like that sort of thing, fine. We did get a good match out of it before Taker goes crawling back to his hole, but unlike all of the years before, Taker walked out just fine, as if he just fought a mid-carder. With his career running on fumes, it will be interesting who Taker will give that last great match to, as it certainly wasn't CM Punk.
Winner: Undertaker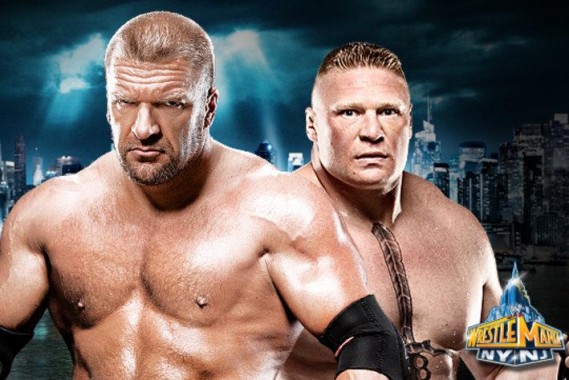 Brock Lesnar (w/Paul Heyman) vs. Triple H (w/Shawn Michaels) NO HOLDS BARRED
Brock is back to fulfill his contracted duties yet again with Triple H. These two do have a history, as SummerSlam proved to be a terrible encounter that led us nowhere. I have faith in Triple H and even Lesnar to pull off something great however, as they have both put on some great matches in the past, and being WrestleMania, it should be obvious that we will get to see it all put out there yet again. The whole No Holds Barred stipulation adds a bit of a safety net, allowing for either man to utilize weaponry to win, but even with that and the addition of Shawn Michaels…again, we still got one of the better matches of the show.
I wouldn't really call this a wrestling match. Just like it's been advertised, HHH vs Lesnar is a brawl. As soon as the bell rings, Triple H knocks Brock outside.  The two fight around the announce table, and we see some step-smashing from Triple H, only to be followed by a surprising belly-to-belly from Lesnar. I say surprising even though Lesnar used to use these commonly ten years ago, but only seems to know how to F-5 and Kimora Lock his opponents since his 2012 return. Lesnar then slams Triple H into the announce table, breaking it on the spot. Shawn Michaels is chased by Brock a bit, and then gets back in the ring only to continue a strong offense. Triple H does the standard face offense, being overwhelmed by Brock several times. I mentioned that belly-to-belly, but there are a lot of suplexes and slams coming from Brock tonight, almost like he wanted to prove something to the crowd. Good to see, either way. Triple H manages to get back in the game, but Lesnar counters. Michaels attempts to get involved, but receives the F-5  instead. This allows Triple H to size Lesnar up for a pedigree, which ends in a two count. Triple H then gets his sledgehammer but misses, which gives Lesnar the chance to hit the F-5 that leads to another near fall. The match goes back outside, and Lesnar falls in love with some steel steps.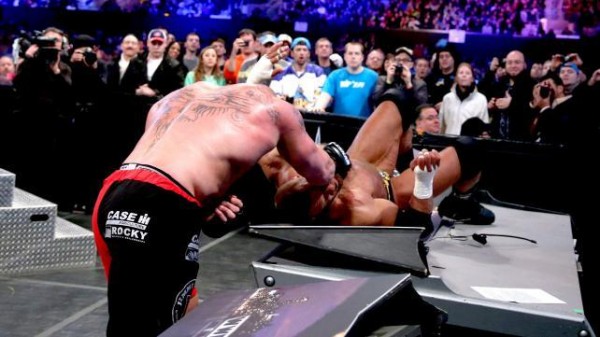 He introduces this new weapon to Triple H several times, before throwing both into the ring and getting a two count. After some action in the corner, Brock slaps on the Kimora, but Triple H battles out. The move is locked in yet again, but Triple H slams Brock down. Brock, now frustrated – charges at the corner only to have his shoulder meet the ring-post, and Triple H works on Brock's arm before applying a Kimora Lock of his own. Heyman rushes in, but HBK greets him with a Sweet Chin Music. Triple H continues the hold, but Brock walks him over to the steps and slams him back first. Tired, Brock lays on Triple H, only to have the Kimora locked in yet again by the Cerebral Assassin. Brock again slams Triple H into the steps, but receives another Kimora Lock. While going for a slam, Brock is countered as Triple H DDTs him into the steps. Triple H grabs the hammer, nails Lesnar in the head, and delivers a thunderous Pedigree into the steps for the win.
This will be the match I think most will remember, as Brock did great and so did Triple H. Sure, there were a lot of weapons involved, but we still got a chance to see each pulling off more than arm-breaking submissions. The finish also felt like a final exclamation point to this feud, so we will probably see Triple H go back to his behind the scenes work and Brock back when the next big angle calls for it. If he can keep performing like this, that is fine by me. Oh yeah..there was also a stipulation about a career of Triple H on the line, but considering how often he appears, I don't think many fans thought much of it. Even if he lost, do you think Triple H would not appear at WrestleMania 30?
Winner: Triple H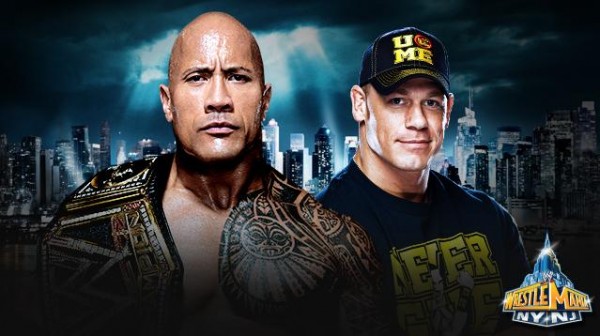 The Rock (c) vs. John Cena WWE CHAMPIONSHIP

Twice in a Lifetime. As annoying as it is seeing these two take the main event for the second year, I at least understand why. Last year's buyrates were through the roof for WrestleMania 28, and that was due to the posterboy for the company fighting G.I. Joe himself. Rock may not show up or be a fighting champion, but he does draw a crowd. That said, because of Rock's schedule, we knew the result of this one before it even took place. I honestly think JBL was told to shut up during the match as he started commentating heavily about Cena being the underdog. It was obvious, but this encounter was a much greater one than last years by miles.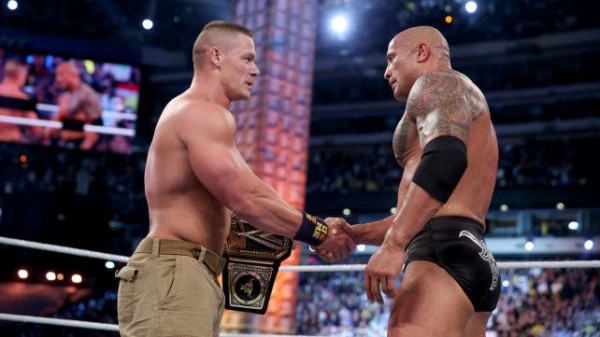 Unlike all of the other recaps here, I don't want to spend a lot of time going through every move as it happened or a play by play. This match doesn't really call for that, as it was pure wrestling between two that know how to work a crowd. Cena was getting boos every time he hit any move, and Rock was getting mostly cheers for any counter he performed. Everything was back and forth and flowed well though, as you could feel this feud through the maneuvers. J.R. talks a lot about telling a story through your moves in interviews, and that is exactly what these two veterans did tonight. It was Rock Bottom after Rock Bottom. Attitude Adjuster into the STF. Kickout after kickout. No, it wasn't match of the year, but it was enjoyable. In the end, we seen Cena deliver a AA to the Rock to win, and while expected, I felt satisfied with the result. There was a part of me that waited to see if someone would run in, and the end was a bit soft as Rock just stood there for a good while with the whole "mutual respect" lines being repeated by Cole, but I was content. That said, this match – or rematch could have happened last year and allowed something great to happen during the main event, but there isn't much more you could have asked out of these two as for The Rock vs John Cena, everything was delivered that we would expect.
Winner and NEW WWE Champion: John Cena
Thinking back on this WrestleMania in its entirety, it wasn't a terrible show. Sure, there were too many people left out, the card was weak for 2/3rds of the event, and the finishes for most matches came off as "meh", but by lowering my own expectations to zero – I enjoyed the event much more than I thought I would. What makes me sad however is that WrestleMania is no longer about creating moments or finalizing feuds, it's just a marketing tool. WWE are so weak when it comes to their current roster that they have to bring in older talent to fill the last three matches. Just look at this card. The order, results, and line-up is what is wrong with the company today, and until WWE starts letting these younger guys like Ryback, Fandango, Ambrose, and even Miz have their moment to come down from the rafters, jump off a twenty foot ladder, or lay bloody at the bottom of a cell, they will always have to rely on past talent to sell their show. It's time to create another Steve Austin, Undertaker, and Triple H –  not call them up and ask them to appear. WrestleMania 29, while somewhat entertaining, follows suit in a trend of forgettable events that do nothing more than build hype and sell T-shirts. Maybe next year, kids.