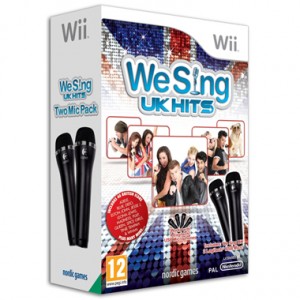 We Sing UK Hits
Developer: Wired Productions
Publisher: Nordic Games
Genre: Music/Karaoke
Platform: Wii
Released: 30th September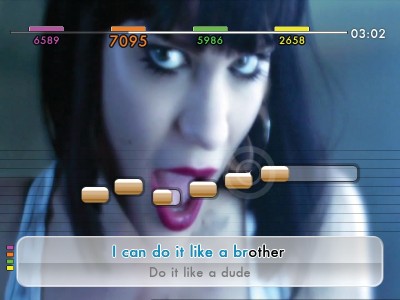 What better embodies the UK than the Union Jack, a British bulldog and Big Ben? In the eyes of Nordic Games, not even cups of tea, fish and chips or the Monarchy were needed to get across just how British We Sing UK Hits is. It's a game that compiles 40 of the UK's home-grown artists and their popular songs, spanning six decades of British music in the process with contemporary tracks recently in the charts and that old one your mum likes, as you can see from the full tracklist:
1 Adele – Chasing Pavements
2 Amy Winehouse – Rehab
3 The Animals – The House of the Rising Sun
4 Bananarama – Venus
5 The Beautiful South – A Little Time
6 Blur – Girls and Boys
7 Bucks Fizz – Making Your Mind Up
8 Coldplay – Speed of Sound
9 David Bowie – Let's Dance
10 Dido – White Flag
11 Dusty Springfield – Son Of A Preacher Man
12 East 17 – Stay Another Day
13 Eliza Doolittle – Pack Up
14 Elton John – Candle In The Wind
15 Example – Kickstarts
16 Florence + The Machine – You've Got The Love
17 Gabrielle – Dreams
18 Happy Mondays – Step On
19 James Blunt – You're Beautiful
20 Jay Sean feat. Lil Wayne – Down
21 Jessie J – Do It Like A Dude
22 Kim Wilde – Kids in America
23 Leona Lewis – Bleeding Love
24 Lulu & The Luvvers – Shout
25 Madness – It Must Be Love
26 McFly – 5 Colours In Her Hair
27 Plan B – She Said
28 Pulp – Common People
29 Queen – Don't Stop Me Now
30 Queen & David Bowie – Under Pressure
31 Radiohead – Creep
32 Rick Astley – Never Gonna Give You Up
33 The Saturdays – Missing You
34 Spice Girls – Who Do You Think You Are
35 Sugababes – Push The Button
36 Texas – I Don't Want A Lover
37 Tinchy Stryder Ft. N-Dubz – Number 1
38 The Ting Tings – That's Not My Name
39 Tinie Tempah – Pass Out
40 Wham! – Wake Me Up Before You Go-Go
It's clear from the 'We' in 'We Sing' that first and foremost We Sing UK Hits is designed with multiplayer in mind, much as all karaoke games are. I think analysts must have found that deluded talent show hopefuls and people who can sing but always need onscreen lyrics to guide them are something of a niche market, so in supporting up to four players with four microphones (although this scenario would involve a USB hub as the Wii only has two USB ports), We Sing UK Hits has clearly been produced as a party game and promotes togetherness.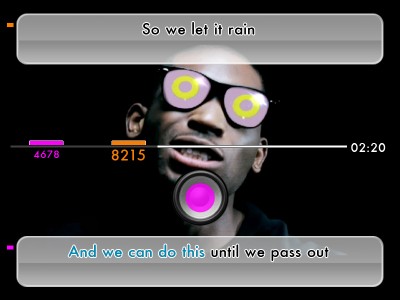 This is even evident on the main menu in which the central icon1 is 'Party', the multiplayer mode of the game. But as well as making an ideal party game with its varied set of play modes, the set list is diverse enough to please most members of the family. In addition to the We Sing mode which has you working together and singing in a group in a non-competitive way, there are standard versus battles and many fun-orientated alternate modes. For example, there's 'Blind' in which lyrics disappear, testing your knowledge of the song; 'Marathon' compares scores after an entire play list of songs; and 'First to X', where you play on until hitting a set score to become the victors. Of the multiplayer modes, only one is playable with a single mic, 'Pass the Mic', but provided you pick up the pack with two Logitech USB microphones this won't affect you. This only really comes into play if you buy the game solus and are using a lone USB mic you have lying around.
Should you want to play alone, there are options for single player, too. This includes a set of 30 lessons which try to teach you the musical scale, complete with 'Do's, 'Re's and 'Mi's. Songs which are duets give you a choice of the two roles, or the option of singing both parts.
One of the areas that makes or breaks any karaoke game is the pitch recognition, and fortunately, We Sing UK Hits is an accurate measure of tone, scoring you according to how well you hit the pitch bars as you sing and your timing with the lyrics. The booklet makes the rather large claim that 'anti-cheat technology' is present in the microphone, but whistling and particularly humming can both work in place of singing should you not want to sing.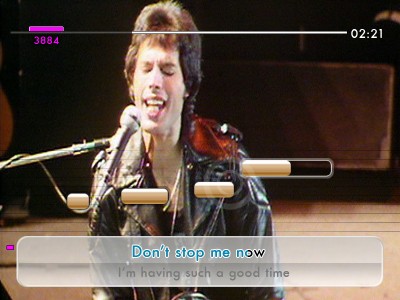 There are three levels of difficulty – easy, medium and hard – with each increase making it more challenging by narrowing the pitch bars to decrease the tolerance, meaning you have to be more accurate with your tone. Expert mode even makes an appearance in multiplayer mode for a bit of a laugh, as if 'hard' wasn't testing enough already. The option of singing along to a shortened song as opposed to a full-length one are also present, as is the ability to create play lists of up to 8 of your favourite songs from the list of 40. Customisation is also available in the form of editing some aspects of the user interface, like colours of the various icons and menu music, and more important things like adjusting the balance of the in-game audio if you feel the instrumentals could be more balanced sound-wise.
Just as this particular version focuses on the British music, the We Sing franchise is aimed specifically towards a multiplayer market, the environment in which karaoke is best played. The options are there if you do want to play alone, but the wider variety of multiplayer options make it a much better experience when played amongst friends and family. As far as karaoke games go, there's no problems with this if you're looking to do a bit of singing, but there's no reason why you should pick this up over an older 'We Sing' game or instead of waiting for the upcoming 'We Sing Rock!'. It all comes down to song choice, because if We Sing UK Hit's set list appeals to you, then it could be worth it, but if you only like less than half of the songs, the 40-strong jukebox instantly drops to a meagre 20 or lower.