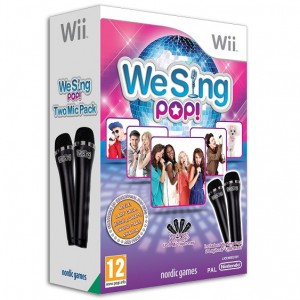 We Sing Pop!
Developer: Wired Productions
Publisher: Nordic Games
Platform: Wii
Genre: Singing
Release Date: 23rd March
Overview:
Nordic Games are back with another entry in their We Sing line of karaoke games, this time in the realms of pop music. They've already tackled Rock and UK Hits, but it's crazy that it has taken them until now to take on the staple of every mainstream listener's musical diet; pop music. Bring on the cheesy tunes and chart-toppers, past and present.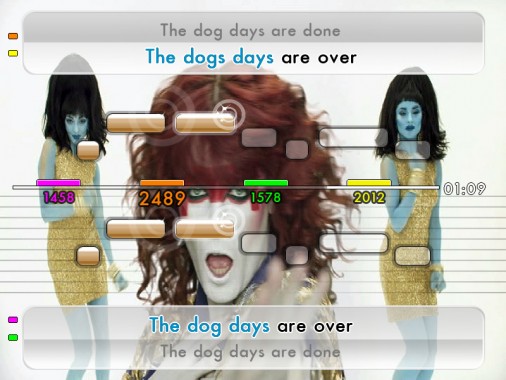 Gameplay:
Nordic Games have put together a varied setlist of 30 tracks, spanning many different eras of music up until the present day with recent songs. One such modern example is 'Rolling in the Deep' by Adele. She's an artist who has seen an insane amount of success over the past 12 months, and a sure-fire way to shift more copies, even if it isn't the easiest song to do karaoke to. Another big British anthem on the disc is Coldplay's 'Clocks', again a tad daunting for sing-along, although there are more light-hearted songs on the game that suit karaoke better, like 'Hey Ya!' by Outkast, a song that appears on countless games, and Y.M.C.A. from the Village People.
The full tracklist is as follows:
Adele – "Rolling in the Deep"
Bruno Mars – "Just the Way You Are"
Coldplay – "Clocks"
Cyndi Lauper – "Girls Just Want to Have Fun"
Enrique Iglesias – "Hero"
Fergie – "Big Girls Don't Cry"
Flo Rida ft. David Guetta – "Club Can't Handle Me"
Florence + the Machine – "Dog Days Are Over"
Hanson – "MMMBop"
Jason Mraz – "I'm Yours"
Jessie J – "Nobody's Perfect"
Kelis – "Milkshake"
Lady Gaga – "Bad Romance"
Lady Gaga – "Born This Way"
Nelly Furtado – "I'm Like A Bird"
Nicole Scherzinger – "Don't Hold Your Breath"
Outkast – "Hey Ya!"
Owl City – "Fireflies"
Peter Andre ft. Bubbler Ranx – "Mysterious Girl"
Pussycat Dolls – "When I Grow Up"
Rihanna – "Don't Stop the Music"
Scissor Sisters – "I Don't Feel Like Dancin"
Sonny & Cher – "I Got You Babe"
The Killers – "When You Were Young"
Tinie Tempah ft. Eric Turner – "Written in the Stars"
Vanilla Ice – "Ice Ice Baby"
Village People – "Y.M.C.A."
Wet Wet Wet – "Love Is All Around"
Wham! – "I'm Your Man"
Wretch 32 ft. Example "Unorthodox"
As I said before, there are 30 tracks, each one including its original music video and fully compatible with all the interchangeable options. However, it's surprising how far a selection of 30 songs goes, or rather, how far it doesn't go. Once you've sorted the tracks you like from the ones you don't, suddenly 30 tracks seems a little thin on the ground. While as it stands the game is good for one night of entertaining – which could be all you need it for – it doesn't have enough choice to keep you coming back. This isn't for lack of trying to keep you interested, as Nordic Games have included loads of options to mix things up. But ultimately it comes down to not having enough singing material.
There are plenty of smaller details to customise and choose from in We Sing Pop! (the exclamation mark is its official title, I'm not quite that excited). You can sing the full song or half of the song, choose a difficulty setting that suits you, and on songs that are duets you have the choice of singing along to either part, or both if you like. There's even a timer running along the top of the screen so you can see how long you have until the humiliation ends and your go is over.
Singing a karaoke are offered, the difference being that when singing the artist's voice is included on the song so you accompany them, whereas in karaoke their vocals are removed to leave you on your own with only instrumentals.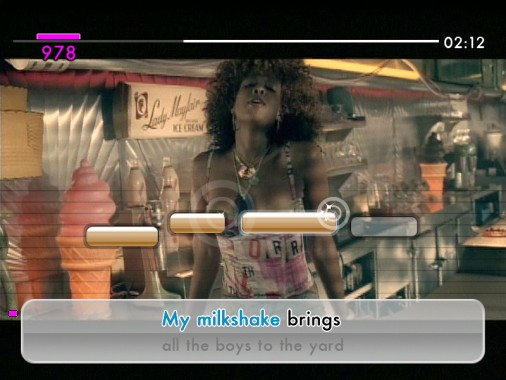 Obviously it is the multiplayer aspect of the game that houses most of the options, as We Sing Pop! Is designed as a party game. Unfortunately, all modes except 'pass the mic' are locked if you only have one mic, leaving your party severely hindered should you only have the one mic, although you would probably already know you'd be limited by this going into the evening. Other spin-off modes designed to inject some fun and competition into proceedings include; Blind, where the visual cues like the scrolling lyrics are removed; First to X, where two teams have to reach a certain score, at which point the song ends and the winner basks in their newfound higher social status, perhaps fist-bumping fellow revellers; there's even the added challenge of an Expert mode for anyone who actually thinks they can sing.
Visuals & Audio:
Each song features its own music video, which plays in the background or can be watched at your leisure in the 'Jukebox' mode. The sound and video quality of these are good, and the tone recognition technology behind the scoring seems to give fair results. If you are actually singing in tune you will be rewarded accordingly.
The menus aren't the sleekest thing ever but you can't complain; they serve their purpose, the colour scheme and layout clear and legible. Everything is simple to navigate, and touches like difficulty ratings out of five stars for each song aid the music selection process.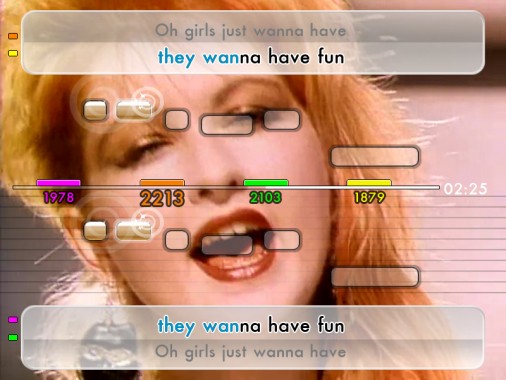 Overall:
We Sing Pop! Has strengthened the We Sing brand further; you get a quality of service you wouldn't get from the likes of Guitar Hero and Rock Band for vocals, as this is a devoted singing game. In all honesty, though, the setlist isn't all that different from previous efforts, with similar artists and songs to previous We Sing games. It's definitely all pop-themed, but at only 30 songs it runs out of steam fast, and even faster if you own previous games in the series. A quality singing game, but a longer setlist would have been nice.