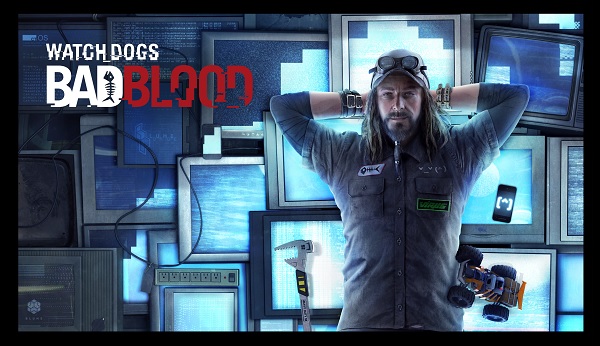 Watch_Dogs Bad Blood
Studio: Ubisoft Montreal
Publisher: Ubisoft
Platforms: PlayStation 4 (Reviewed), PlayStation, Xbox One, Xbox 360, PC
Install Size: 3.5GB
Release Date: September 23 (Season Pass), September 30 (General)
Price: AU$22.95 – Available Here, US$14.99 – Available Here
Overview
Bad Blood is a self-contained campaign, released as part of the Watch_Dogs 'Season Pass' offerings although, as of this writing, the DLC is available for the general public via UPlay for PC, PSN for the PlayStation 4 and PlayStation 3, and Xbox Live for Xbox One and Xbox 360 (sorry Wii U owners). It follows T-Bone Grady in the events that occur after the conclusion of the main game's story. So, with that in mind, be forewarned: there will be spoilers in this review.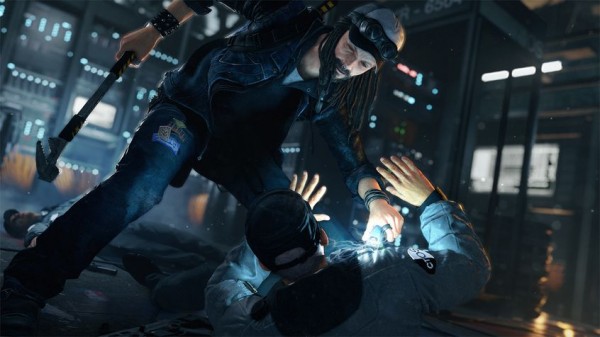 Story
T-Bone Grady, aka Raymond Kenney, wants to erase his digital footprint for good and escape Blume's sight. Bad Blood starts off with him attempting just that at a ctOS center. And just when he escapes to his Silo hideout, mission complete, thinking it'll be his "last night in the rabbit hole", Grady gets a call from our ol' homeless pal Tobias Frewer. He's been kidnapped by Fixers, Blume now apparently on his trail. Being the good friend that Grady is, he promises to hit Blume again in order to clear Frewer's file so they can both move on with their lives happily and, most importantly, safely. Eventually, a sneaky little rat comes back into play – Defalt. But, wasn't he taken out by Aiden in the main game? Yes, he was…kinda. It all gets explained, as does his personal motivation for targeting Grady and Frewer. Outside of the campaign missions, the 'Council of Daves' and 'Fox Hunt' investigation side-missions (five each), respectively, shed light on some evident dissension among the ranks of Dedsec, and Blume's continued search for Aiden, proving how well Aiden buried his tracks as they are two steps behind the entire time. Additionally, introspective audio logs found in free roam give us insight on the thoughts and emotions of Aiden and Grady given all that has happened.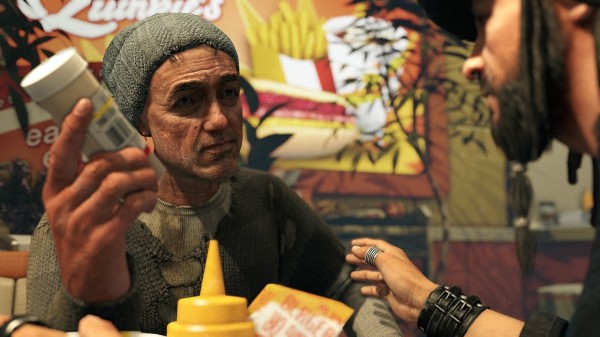 Gameplay
Bad Blood adds some new wrinkles to the mix. In the campaign, Eugene – T-Bone's R/C car – is introduced. He takes up a gadget slot on the weapon wheel and can be deployed only in restricted areas/interiors raversed in the story. Initially, Eugene is only implemented in set moments where T-Bone is stonewalled, able to drive through vents and get to the next room to unlock a door or turn off a laser defense system. Soon after, however, a 'Stun' ability is granted to the player, allowing them to take out enemies with an even lower profile. After that point, any upgrades – such as 'Attract' and 'Detonate' – are acquired through completed Street Sweep missions, which we'll get to in a moment. Lastly, it's important to note that enemies can spot Eugene, which tips them off to your location. So even though you have that lower profile with Eugene, it is imperative that you not forget the stealth aspect. New weapons are also at T-Bone's disposal, unlockable in the same manner as Eugene's upgrades. He does, however, utilise a large wrench and stun gun in his melee attack, the animations for which take a little longer to play out than Aiden's, which isn't so advantageous in a stealth-heavy level. Now, onto those Street Sweep missions, which is the other main addition to the gameplay. While T-Bone's skill tree is the same as Aiden's, and is governed by XP all the same, an added branch – the Street Sweep skills – are not.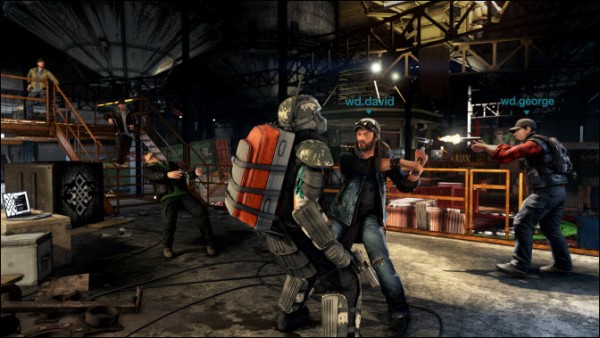 Sheila Billings is T-Bone's contact within the police force – a relationship that strongly echoes that of Detective Carter and John Reese's in Person of Interest (as if the comparisons weren't significant enough already!). In fact, she even sounds like Taraji P. Henson, who plays Detective Carter in said TV show. She even calls him "Mystery Man", which Carter labels Reese at points in the programme (can no longer be a coincidence). Anyway, she tasks T-Bone with systematically taking out three gangs: the Chicago South Club (run by Lucky Quinn's son), Fixers and the Militia. There are 20 missions attributed to each club, and completing them earns you tags, as well as points on a progression bar. At the 1, 5 and 20 marks for each gang, you unlock a new perk. The tags, on the other hand, are used as currency for new outfits to customise your T-Bone. These missions play like challenge rooms in the Batman: Arkham series, and can be very challenging, placing optional objectives on the player for maximum points, climbing them up the ranks of the global leaderboard and earning them more tags in the process. On top of that, Driving missions for each gang can be engaged, requiring the player hack or protect a car, speed through a checkpointed course or race their car from point a to b with minimum damage. Oh, and there are 10 co-op missions! They are really fun; it's a shame there's fewer of them. And lastly, all the mini-games, betting, poker, 'Cash Run', 'Digital Trips', etc., can be played as T-Bone, although they are exactly the same.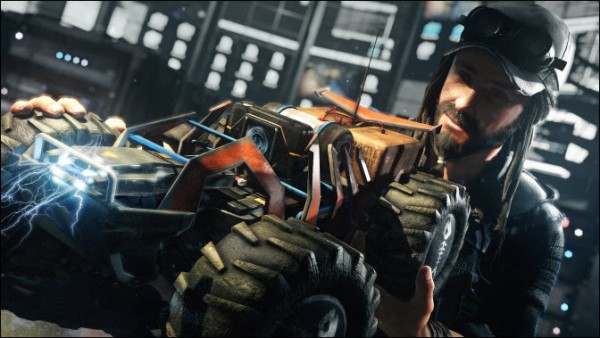 Visuals & Audio
Bad Blood is well voice-acted and Chicago looks as good as ever, but there's not much else to be said about the expansion in regards to visuals and audio. No new songs have been added to the radio, although new interior locations can be explored as part of the campaign missions; outside of BlumeForge and the Silo, Defalt's base in particular was a highlight. The neon lighting in the maze-room, among other parts of the building, reflected Defalt's day-job as a DJ and, when contrasted with the danger of the location and the murderous intentions of our rat-like foe, created a surreal feel, as if you are trapped in a labyrinthine disco of death! Think less disco, more rave, but you get the point. Oh, audio-wise there is a hilarious bunch of dialogue recorded for T-Bone's own personal talking moose. They are essentially stand-up comedy punchlines, some of which are truly hysterical, while others sort of bomb…much like a real comic's material!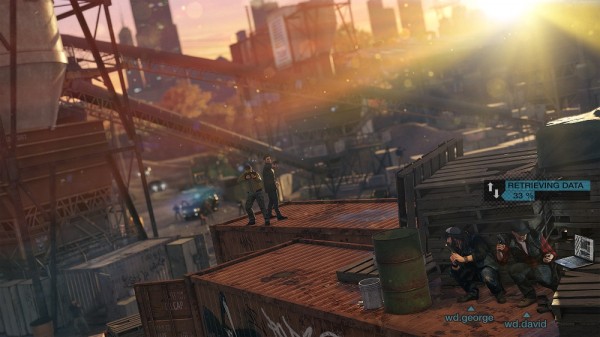 Overall
Bad Blood is welcome, if largely familiar, add-on content for Watch_Dogs. T-Bone is a wildly different personality to Aiden, which lends to an entirely fresh tone for his campaign. In many ways, he is reminiscent of the foil that Trevor played in Grand Theft Auto V, although not anywhere near as vulgar, violent and psychopathic…okay, maybe his accent and way of speaking are the only similarities between them, but still; he's got this hillbilly air to him, and his rag-tag look also adds to that. The new take Street Sweep skill progression system is nice for variety's sake, with the missions themselves providing a good challenge and incentive for replaying and topping the leaderboards. Co-op is a great time, Eugene is a nice addition to the gameplay base, and the story wraps up the loose ends relating to our main and supporting characters. For all these reasons, Bad Blood is a worthwhile experience for Watch_Dogs fans – i's only downside is that its ultimately not too different an experience at its core.

Capsule Computers review guidelines can be found here.