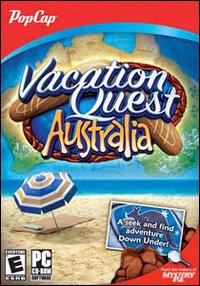 Vacation Quest: Australia
Publisher: PopCap Games
Developer: SpinTop Games
Platforms: PC
Release Date: January 18, 2012
Price: $19.99 (US) – Available Here
Overview
Knowing very well Vacation Quest: Australia was a hidden object adventure, I was not prepared to appreciate its simplistic nature. I have often expected moving environments and 3D visuals to capture my attention, but the stillness featured by each scene can be mesmerizing. While distinctly showing off some of the major sites of Australia, the game does not show the continent's full beauty nor imminent danger throughout each scene. Glimpses of a mystical adventure to the Great Barrier Reef can be noted, but the yielding experience of bathing boxes is less than magical.
Gameplay
The idea behind Vacation Quest: Australia is to identify key items on the map by words or clues. Designed as a hidden object game for the PC, players can ultimately point and click in any area of a given scene to find items. Depending on the options selected, your overall score may be affected by having an aggressive clicking spree. Finding all of the described objects will complete a level and continue your vacation to the next selectable venue.
Just in case you feel to hunt items with that sporadic finger, a suggestive offer would be to first try the hint button. Even though the button administers a negative amount to your score, you reduce a higher potential loss of points with certainty of item retrieval. Once pressed the button will receive a cooldown and cannot be used for that duration. The exception to this is if you mark [unlimited hints] in your options, but no one likes a cheater.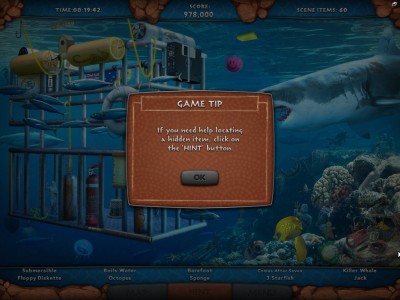 You are given 21 days to navigate across Australia with a potential of 7 additional days to unlock. To extend your stay Down Under you must collect boomerangs which can be found in groups of three in each stage. Finding successive amounts of boomerangs will eventually unlock a full 28 days at 63 boomerangs. Managing to find all of the boomerangs – 84 total – will provide heaps of bonuses to the overall score.
In between levels, there are mini-games to avoid monotonous searching for hidden items. Among the mini-games are Match 3, Majong, and Jigsaw puzzles. Match 3 plays as an Australian version of Bejeweled. This should not surprise anyone since the developer SpinTop was involved in the creation of Bejeweled 3. In order to win in Match 3, you must simply align three like tiles together causing the tile to change color. By converting all tiles from blue to brown, a player will complete the stage and earn additional points to their overall score.
The only way to truly lose during one of the mini-games is by leaving the computer. I have tried several times to lose at Majong by picking tiles that would leave me without another move. Once you reach this point, the tiles will automatically shuffle and resume playing as if nothing happened. Wait a minute! I arbitrarily lost to find out that I couldn't lose… Additionally, Jigsaw pieces are big enough to easily know where to place. Wouldn't be much of a "mini-game" if there were 100 pieces to sort through.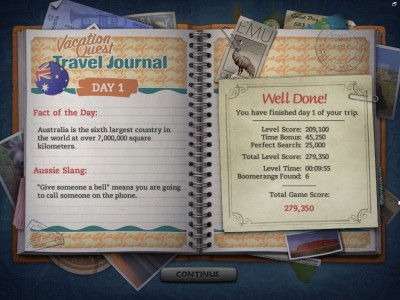 After every completed calendar day, a report card will pop up with your overall score and some interesting facts about Australia. Additionally you can pick up some Australian slang by knowing the words and their meanings. The involvement of facts and slang on the report card make the transition from day to day fun and a learning experience.
Audio/Visual
The first graphical impression that I received was not actually a good one. I noticed a tacky animation of a surfboard moving laterally across the screen during the main menu load-out. While this may not strike most players as a major fault, I believed that this was a visual representation of the game's effects.
I must admit the game becomes really exciting if you can find one item after another. Not only are you completing the stage quickly but also earning bonuses towards the overall score. By clicking on subsequent items quickly you gain bonuses that can be visually seen in a sparkling ring. I am unsure if it's my ability to be easily entertained or my increased eye-clicking coordination that keeps me focused (go with the first one). Note the rings below are from using the hint button continuously; remember that cheater I was talking about?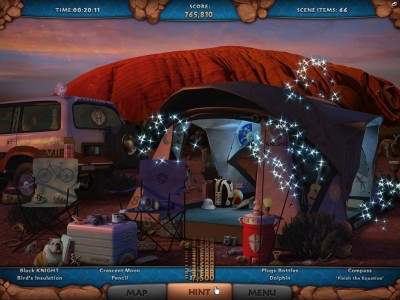 The music changes only between a few tracks throughout the entire game which can reduce the quality. I would have loved a specific track per level that could identify the mood and atmosphere. Finding items in the level Shark Cage should not encompass a flowing guitar melody with gentle waves in the background. A more preferable musical choice would be that of JAWS or built up crescendo that creates a panic for the player. Even the Croc Adventure stage uses similar music when it should be dangerous.
Overall
PopCap does well to emphasize that there are over 2,200 hidden objects within 28 individual scenes, yet are we counting item repetition? I noticed that treble clefs, fleur-de-lis, crowns, and other items show up quite readily from scene to scene. More variety or additional clues would have given the game a more challenging experience rather than looking for similar items.
Since I have visited Australia for a short duration, I imagined I might be able to relive parts of my own adventure through Vacation Quest: Australia. I thought surely Captain Hook's adventure would have been part of this unique experience, but I failed to even see Australia's endangered Daintree Rainforest. While some places I ventured did not make the list of scenes, the Great Barrier Reef as well as monument site of Uluru were pleasant necessities.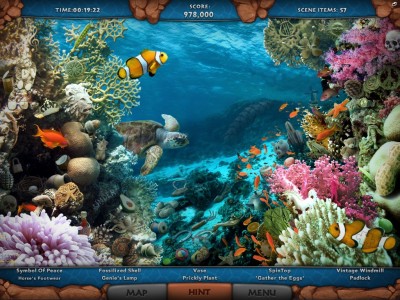 If you want a virtual vacation to Australia, this game will be your best bet. While several of the scenes display an interior design of a market, house, or luxury spa, the main attractions will become available once you extend your trip. Even though levels will become repetitive in both audio and visuals, pacing yourself by taking breaks or playing the mini-games will relieve this tension. I would advise anyone to definitely grab your passport because PopCap has a free 60 minute trial.