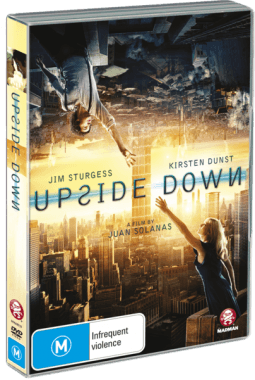 Upside Down
Studio: Kinology/Studio 37
Publisher: Madman
Format: DVD (Reviewed), Blu-Ray
Release Date: 17th July, 2013
Price: $29.95 – Available Here
Overview
Juan Solanas' film, 'Upside Down' presents to the audience a double gravity world that explores the extent to which lovers, Adam and Eden, can emerge together after every force of separation. The concept of love being stronger than gravity is impossible to imagine, however there exists a power to combine both realms and reunite the opposing universes. The question now is whether Adam and Eden can break the law of physics and finally be with each other.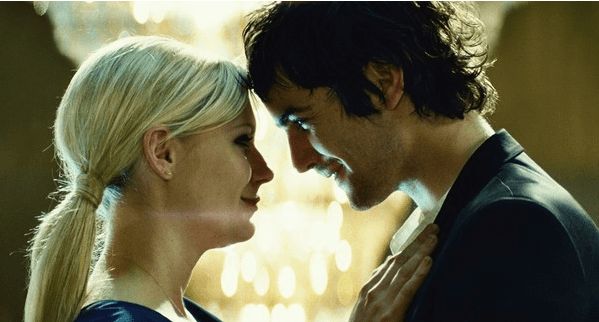 Story
The film begins with Adam Kirk's (Jim Sturgess) voiceover explaining this mystifying universe; "You see I come from that very mysterious and unique place, where we are the only known solar system with double gravity and in our world it is possible to fall up and rise down. There are three basic laws of double gravity; every single object is pulled by the world that it comes from, an objects weight can be offset using inverse matter from the opposite world, after a few hours of contact, matter and contact with inverse matter burns".

Adam Kirk and Eden Moore (Kirsten Dunst) aren't the average Romeo and Juliet; yet resemble the first man and woman from the religious myth to be together -only problem is that their love is forbidden by the gravitational force of their worlds. Up top is for the wealthy and prosperous and down below is where the disadvantaged are dependent on up top's inverse matter. Despite the predicament, Adam and Eden form a magical relationship in their early teenage years, finding each other at the edge of the snowy, Sage Mountains. When hunters and boarder patrol dogs discover the two together, a terrible incident occurs that leaves both of them in the dark for ten years.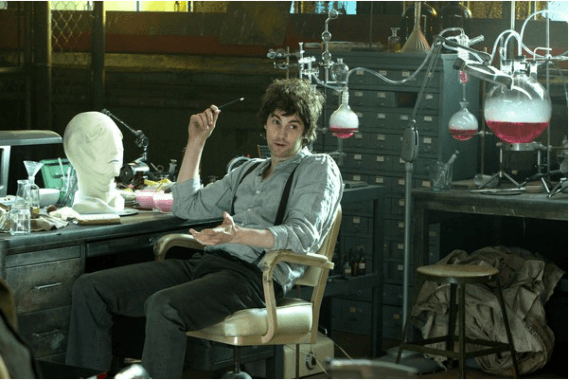 As a man who believes in anti-gravity, Adam works on a formula for rejuvenating ageing skin and decides to take on a new job opportunity at Transworld, the divider building between worlds, after he finds out that Eden is an employee there. However, there are no love stories without complications and for Adam, he must not only reconnect their former relationship, but risk his life in changing worlds to see Eden and break new ground with a formula that will revolutionise both worlds, so they can finally be together. The one criticism within the film, would be the questionable sequences involving Adam's invincibility, when it came to dodging bullets and falling from great heights.
Visuals
The fascinating universe is breathtaking and expressed with such unbelievable visuals, that the audience finds themselves realistically in both an up and down world. To direct such a film and shoot a double gravity world would seem beyond absurd and too complex; however Juan Solanas and his production team were able to successfully flip and mirror the rotation between the two gravities. For example, the transitional scene in the upper world, in which Adam swims to the middle of the ocean and removes his inverse matter to be lifted upside down in the sky towards the ocean in his world, is magnificently captured. Drawn from Montreal, the unique solar system encompasses a parallel visual experience for the audience to admire up from below or down from above. Without the set design, visual effects and cinematographic frames, the audience would not be able to truly appreciate this ambitious project and beautifully constructed film.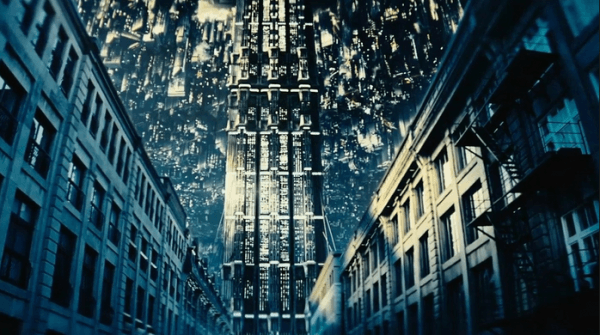 Audio
Benoit Charest composed the soaring and inspirational music that drifts between worlds and changes of gravity within the film. The music is touching and creates a sense of longing to join the universes together and in the process reunite Adam and Eden. There was a wide range of soft and thrilling music within the film from theatrical orchestra pieces throughout the ballroom scenes and off-beat sounds in running scenes across worlds.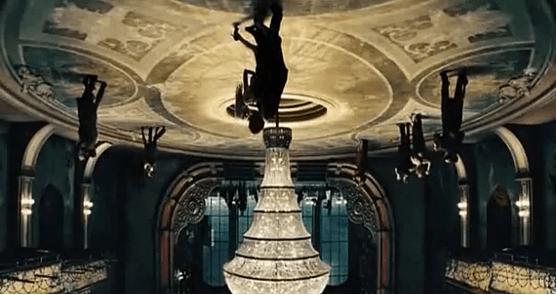 Extras
Upside Down DVD contains a variety of additional bonus material; including a behind the scenes featurette with the production crew, extended interviews on different aspects of the film with Kirsten Dunst, Jim Sturgess and Alex McDowell, the theatrical trailer of the film and MADMAN propaganda.
The main featurette is behind the scenes, which gives the audience exclusive insights into the remarkable project produced in Montreal. One of the producers, Anton Soumache sums up the filming experience by saying, "It's been a beautiful, long adventure, three and a half years from concept to shoot in 55 days". Guest appearance from other production members include cinematographer, Pierre Gill and visual effects supervisor, Francois Dumoulin and production designer, Alex McDowell, as well as the main cast and director.
Overall
Upside Down is an amazing romantic and fantasy film, that would suit anyone who is interested in an abstract and visually incredible graphics. The magic realism and metaphorical elements enhances 'Upside Down', providing the audience an entirely different universe to cater for a new type of gravity-love story. Perhaps love is stronger than gravity, but that all depends on what you believe.
Capsule Computers review guidelines can be found here.