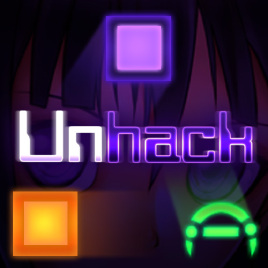 Unhack
Developer: InvertMouse
Publisher: InvertMouse
Platforms: PC (Reviewed), Mac
Release Date: February 12, 2014
Price: $5.00 – Available Here
Overview
Visual Novels are few and far between in the Western video-games market, let alone Visual Novels made outside of Japan. That is why Unhack is such a breath of fresh air in a market growing stagnant with the same old song and dance. Unhack from indie developer InvertMouse is a truly unique experience for the PC, blending the Japanese Visual Novel genre with puzzle game elements to great effect. What really sets Unhack apart from the crowd however is its rich story and concept. You'll find yourself absorbed into the digital world of Unhack as its colourful cast sets out to 'unhack' the system and take down the 5K Worm. This is riveting stuff and you can only find it in the innovative Unhack.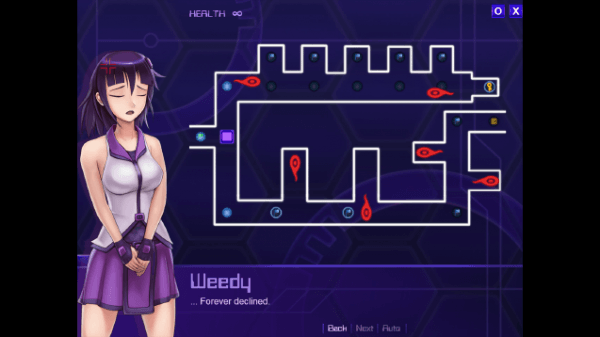 Gameplay
Sprawling across a massive 10 episodes, Unhack is an ambitious game to say the very least. It reinvents the puzzle game genre all the while taking the very notion of visual novels and turning it completely on its head. What we have here is quite a special game and it is a must-play game.
The core gameplay in Unhack is simple yet complex puzzle mechanics. You control your unhacker with the WASD keys to move in all directions through a maze like level, avoiding enemies, unlocking gateways, defeating enemies and taking down big bad bosses. All of this plays out alongside an elaborate visual novel story which overlays that core puzzle element. The characters, the story and the intricate details that play out over these 10 episodes are all simply remarkable. InvertMouse has crafted something truly genius here and it is astonishing to think about.
The game has a number of different difficulty options, giving the game a spice of challenge the higher up you go, the puzzles are already brain benders to begin with and they only become more and more hard as you increase difficulty. However it is in the challenge where Unhack proves to be most enjoyable. While you are absorbed deeply into the engaging story of Unhack, you'll become addicted to the puzzles.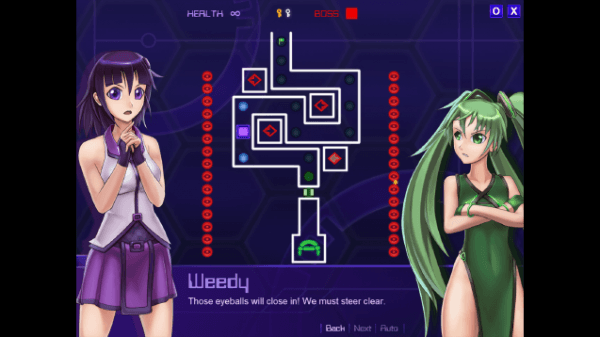 As you progress through the game, the twists and turns the story takes will prove to shock you just as much as intrigue you. There is a particularly pivotal twist in episode 10 that this reviewer did not see coming. It is the mark of true story-telling excellence when you can still surprise the audience in unexpected and compelling ways. If you're looking for a game that will tell you a tale you won't be able to look away from, then Unhack is it. In an age where story-telling in gaming has become pedestrian and dulled to appease the simple minded masses, Unhack tells an intelligent story about self acceptance. It is thrilling narrative at its finest.
All in all the gameplay experience that Unhack provides is simply uncharted territory. What we have here is something new, something fresh and you'll be hooked from start to finish on this wild thrill-ride of a journey of unhacking.
Visuals & Audio
The aesthetic design of Unhack is rather genius really. Blending the anime inspired artwork of the character designs with the digitized neon world of Unhack works wonders here, creating an artistic juxtaposition that manages to balance the differences in visuals into a happy middle-ground that feels like a natural extension of one another. It is bright, colourful and lively graphic work and it looks gorgeous in every regard.
The soundtrack is equally as impressive, with some spellbinding musical arrangements that will tantalize the senses. On top of that is the excellent voice work in the game. InvertMouse has gone to great effort here to provide some superb voice acting for these characters, bringing in anime voice actress Xanthe Huynh, who has previously voiced characters in anime such as K-ON! and Sword Art Online. The acting is excellent across the board and truly brings these characters to life.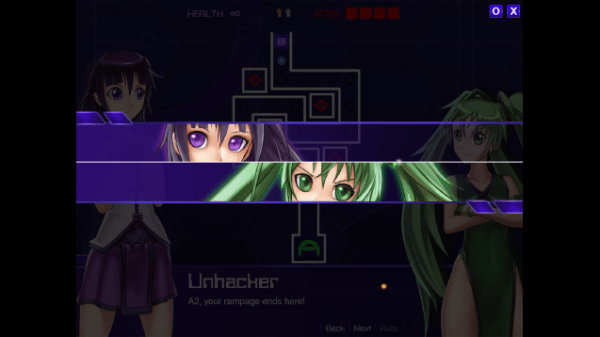 Overall
InvertMouse has done something wonderful with Unhack, this indie developer has created something unique, something genuinely special and something that must be played to be believed. It takes the puzzle genre into bright new territory, puts a spotlight on the under-appreciated visual novel genre, mixes both together into what results in one hell of a game.
While Unhack's anime inspired style may not be for everyone, but if you are willing to give this game a chance, you'll find yourself experiencing something unlike anything else in gaming right now. Unhack is an innovative new game and for the price tag, it is an easy decision to make. This is a game that simply must be played. InvertMouse prove themselves to be an indie developer worth your attention. Unhack is brilliant, intelligent, creative gaming at its very finest.

Capsule Computers review guidelines can be found here.