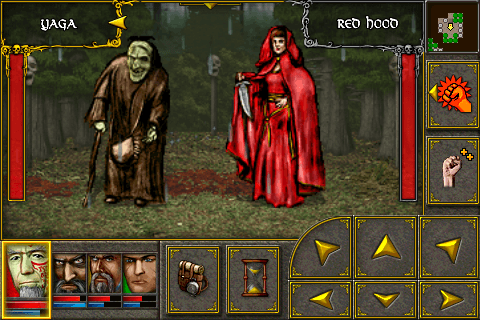 Undercroft
Platform: iPhone (reviewed)
Developer: Raking in Grass
Release Date: Oct 18, 2009
MasterAbbott from Capsule Computers sat down for over 10 plus hours to review Rake In Grass's EPIC RPG Game for the iPhone : UNDERCROFT
I have done a 10 minute view review which covers and goes through pretty much all the important parts of Undercroft.
Undercroft is truely a great RPG turn based game.  The Character classes to choose from are the right mix, the skills that each character can learn are interesting.  You will have so many decisions to make on what to give each character when they level up.  And what type of skills will fit well within the party.   You have to really sit down and strategize everything.  It's perfect in every which way.  It's not everyday an RPG like this gets released to the world for us all to enjoy.  And Rake In Grass has pulled off a fantastic job in creating an amazing game with great storylines, missions, side quests, hundreds of items to collect and unique and interesting monsters to battle against. 
The game has two difficulty levels, I would recommend playing it on the hardest for a full bodied experience.  Take your time and plan your moves in battle with the use of weapons, spells or skills.  Running head first into battle is not always the smart thing.  Sometimes you might need to buff up with the assistance of your Priest(Cleric) to give the party that extra boost in attack and defense. 
There are some tricky and mind bending puzzles in the game that will have you thinking pretty hard.  I wont give away any spoilers but they were quite enjoyable and have you thinking, Rake in Grass has done a great job in that department.
The music in the game is also brilliant, the sound effects and thunderstorms with rain effects are fantastic, especially with headphones on.   There is no voice acting, thats something that would of made Undercroft even more EPIC.  Everyone you meet and speak to and everything you do is all text driven.  It's still very easy to understand and fun, but voice would of added that extra feel to the game.
Undercroft also has this really neat save game transfer tool.  If you download the LITE (demo version) and play through the first chapter then decide to go out and buy the full version, you dont have to start all over again.  This is especially important in RPG games.  As everything you have done so far can be simply transported over to the full version so you don't lose anything and you can continue on your quest.  *Note to do this you must have both lite and full version on the iPhone *
Now site back, relax and watch the video review for Undercroft
[youtube=http://www.youtube.com/watch?v=jXZCIu2ZsfU]
–
In closing Undercroft is amazing.  Graphically one of the best iPhone games ever made, and certainly one of the best RPG's currently available on the iPhone HANDS down. 
Capsule Computers gives Undercroft : 9 Capsules Out Of 10

Grab your copy now from App Store for only $4.99 US
–
Click on the RED Buy NOW button
–
Best iPhone apps at AppStoreHQ