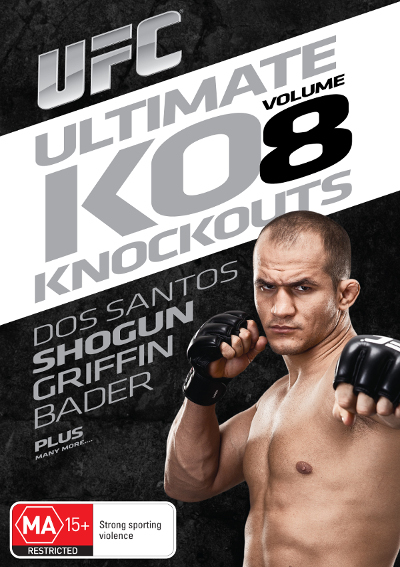 UFC Ultimate Knockouts 8
Studio: Zuffa
Publisher: Beyond Home Entertainment
Format: DVD 
Release Date: 1 May 2013
Price: $6.29 – Available Here
Overview
Can I say anything more insightful about this DVD beyond reading out the title? Not really, it turns out. Whether that's an issue for you or not depends on how much pleasure you derive from watching people get knocked out. There's a ferocity on a fighter's face when they know that they're going to knock their competitor out and that is thrilling to watch. Getting caught up in the match with the fighters is the highlight of these kinds of DVDs; if you're not the type that finds violence exciting you had best avoid Ultimate Knockouts 8. On the other hand, extreme sport compilations are always welcome if you're having mates around for a lazy drink.
Story
It would be easy to say that the core theme of Ultimate Knockouts 8 is that knock outs are hardcore. The end. Such a dismissive attitude doesn't really encapsulate the goal of makers of the series. Ultimate Knockouts is about mythologising fighting styles, arenas and contestants. In each knock out clip only the preceding few minutes are shown, to contextualise the event. Even in this short amount of time the importance of the bout to each fighter is made clear. When a winner is declared, the victor will invariably climb onto the lip of the octagon cage and lap up the fans' adoration. 'Rocked' is thrown around liberally by the commentators to describe the moment a fighter is knocked out; along with lots of other epic language. I could see the Romans getting into UFC. Mixed Martial Arts is a gladiatorial event. Not only in the way both sports are brutally blood soaked, but also in the romanticism that surrounds it.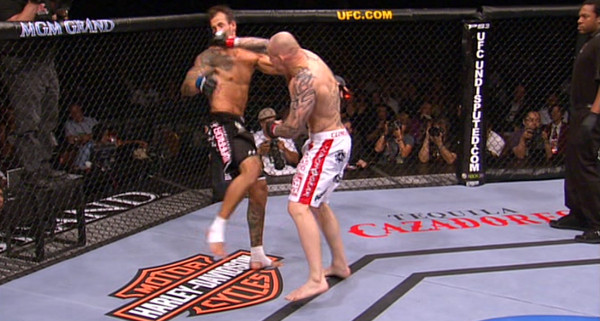 There is an Ultimate Submissions as well, which may interest fans of the sport but it doesn't particularly appeal to me. To me, going with submissions misses the point. As an observer unfamiliar with the sport, there's a visceral appeal to watching someone lose consciousness by being hit extremely hard. That mixed feeling of shock and tension release is exhilarating and is the real reason you would watch this. After a couple of KO's you begin to anticipate it, to the point where it feels like a compulsive chase. You'll feel cheated when someone get's knocked out in the first few seconds because that tension is missing. If you are a fan of UFC I imagine your reaction would be totally different due to implicitly expecting the unseen part of the fight to have taken place. Even then, I'm pretty sure you'd still appreciate a good KO when you see it.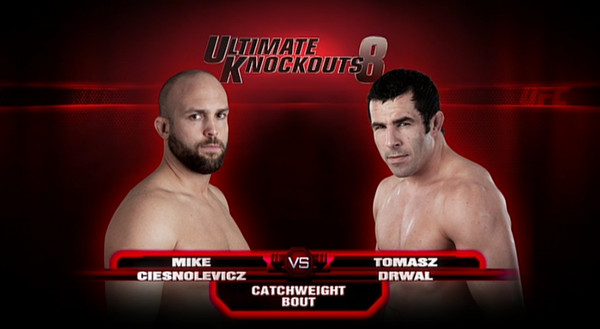 Thirty-One knockouts are covered in 93 minutes, so that's a knock out every 3 minutes. Wrestling fans will recognise Brock Lesner, who's actually made a bit of a name for himself in the UFC. It's good to see a pro-wrestler put his money where his mouth is. The more glorious knock outs go to the smaller fighters. Often I was shocked at which of the two executed the KO. Championship belts swap hands a few times within this compilation. Whether there's a belt or not, each victory feels like it was earned. This is not a season of UFC. You won't be able to follow who's rising and falling on the ladder or be able to anticipate when the next big championship is coming up. Such linearity would not suit the tone here, which only delivers just enough information to get emotionally involved and no more.
Visuals
Ultimate Knockout 8 is a well produced package. Menus are deliberately uncomplicated which is the right move. Click and let the punching begin; it doesn't need to be flashy. Finding a favourite knock out is easy with the menu, yet why you'd have a favourite one in the first place is a little beyond my comprehension. The action itself is cleanly shot, as you'd expect from a pro sport. I have always been impressed that the cage never feels like an issue when watching UFC. Maybe it's different if you actually go see a fight.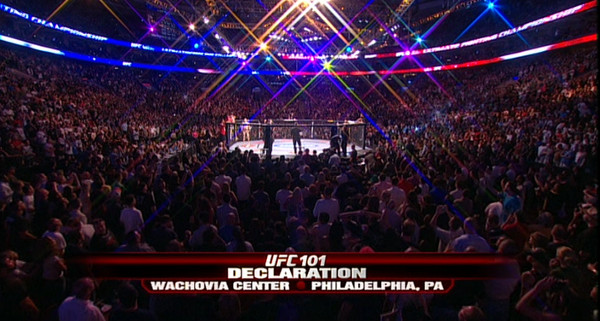 Watching grown men break each other open with their fists has an impact. Each fighter's combination of styles is expressive, meaning that the way they dominate the frame comes to craft their identity as a fighter. Seeing two fighters who respected each other compete was strange. In one clip there's a fighter who fist pumps the other guy in the middle of a fight because he had just pinned him. Cockier fighters play to the cameras which is entertaining, if not obnoxious. Blood features predominantly, which is always welcome. Ultimate Knockouts isn't gory by any means. The worst would be a face covered in blood. As far as knock outs themselves go, they never seem to be out for that long. Often a fighter will get annoyed when the referee calls it. For those sensitive to violence the hardcore knock outs will probably be confronting.
Audio
All the audio is dedicated to fighting. There's no menu music or sounds when visuals effects cross the screen. A song usually bursts on after the knock out itself but that's just trimming to lift the visuals. Between the commentators and the crowd, you get this sense that the fight is all that matters. Having the constant drone of the spectators adds to the tension, like the build up of a kettle whistle. Fights demand this kind of atmosphere to have any appeal at all and Ultimate Knockouts 8 is packed with it.  The commentary is kind to people who may not watch a lot of UFC. Jargon is introduced in pretty amusing ways simply because the commentators love the sport. One of them will let slip some crazy word for knock out or a pin and they'll both riff on it for ages.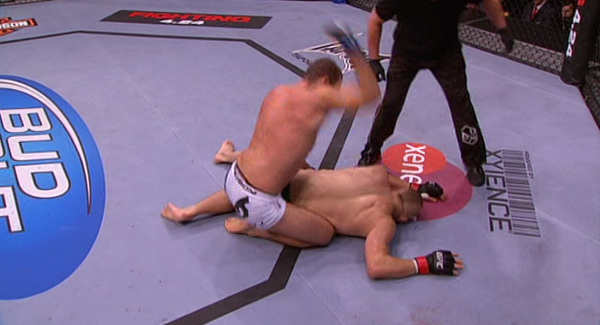 Extras 

There's only one extra here and it goes straight for the jugular. All the knock outs, with the preceding few minutes not included. All in all it lasts about a minute and a half. I loved it, the brutality of it is literally awesome. If you don't laugh you'll just stand gob-smacked. This bonus feature gave me something no other feature has given me before. The visceral nature of watching knock out after knock out makes you appreciate how vulnerable even the strongest can be. An inside look at the animal side of our human selves. Your body will be  pumped with adrenaline after watching and you'll probably want to start a fight.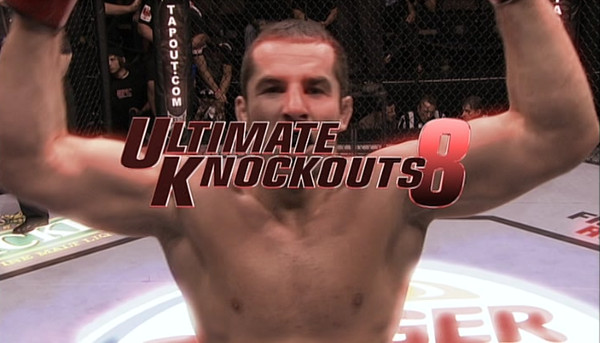 Overall
I don't have a team or follow a code but I love watching sports mix tapes. They're the kind of thing that you throw on when mates come over for impromptu drinks and you still want to be able to talk. Every now and again you'll be distracted by a king hit or someone coughing up blood but for the most part it's just providing the background noise to the ribaldry going on around you. Usually I've been confined to skate tapes, motor cross and dunks but today I add another sport to my mix tape list; UFC. If it came on VHS it would be damn near perfect. Watching this video through straight will probably entice the enthusiast but it may feel bloated to outsiders. Ultimate Knockouts 8's tag line is 'celebrate the art of the KO.' The DVD goes beyond a celebration, it positions the knock out as the highest achievement in UFC. Those who manage to pull of a knock out are therefore kings of their domain. This DVD acts as their coronation, intended to immortalise each athlete to the community.
Capsule Computers review guidelines can be found here.